26 Runners Complete Their 4,000 Mile Journey Across America Benefiting Young Adults Affected By Cancer
The Ulman Cancer Fund for Young Adults will celebrate the 4K for Cancer Running Team finish in Baltimore's Inner Harbor this Saturday.
Baltimore, Maryland – July 24, 2014: 
The
Ulman Cancer Fund for Young Adults
(UCF) will be hosting an arrival celebration, July 26th 2014, for 26 young adults as they finish their run from San Francisco, CA to Baltimore, MD.
The party will be held atop Federal Hill and will mark the end of a 4,000 – mile run.
The 4K for Cancer Running Team
(and their sister Riding Teams) have been making their way across America while spreading hope and support to young adults, and their loved ones, affected by cancer.
During the trip the runners made stops at various cancer centers, for service days, and in several cities to award scholarships to college students impacted by cancer.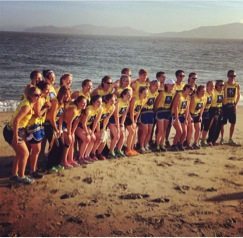 Each runner has a deep-seated connection to cancer, including one participant who is, herself, a survivor.
The 4K for Cancer's mission is to raise awareness and funds to help young adults touched by the disease.
The runner's commitment to the 4K's cause is incredibly dedicated. The group as raised over $150,000 – of which most participants have surpassed the $4,500 fundraising minimum.
These funds will be distributed for services such as direct patient navigation, scholarship awards, or programs such as the
Cancer to 5K
(a free training program offered to cancer survivors) and
Helping Others Fight
(a free service which assists cancer patients with household tasks that have become too difficult during treatment).
UCF invites you to join us in welcoming these 26 amazing individuals and celebrating their achievements during this long four-week journey.
The runners will arrive at Baltimore's Inner Harbor to dip their shoes into the water at 11:50am and will immediately head to Federal Hill Park for the
event
.
About The Ulman Cancer Fund for Young Adults
The Ulman Cancer Fund for Young Adults (UCF), founded in 1997, is the national leader in providing specialized support for young adults affected by cancer. With nearly 70,000 young adults diagnosed every year, our organization helps young people fight the disease and navigate treatment by providing access to information, support groups, and other specialized programs. UCF Patient Navigation Programs have set a national standard and can be accessed remotely or through onsite Patient Navigators at a growing number of hospitals in the Mid-Atlantic region.
RELATED POSTS
Jen Anotelli
Ulman House: A Magnificent Lighthouse By Julia, Ulman House Resident The first time you hear those three spectacularly awful words, a thousand questions pop into your mind. The doctor says, "You have cancer," and suddenly the way forward