"My 4K Team was My Life Vest"
By Ivelisse, 4K for Cancer 2020 Alum

Roughly five years ago, I would often sit in my bed, or on the couch, blowing into an incentive spirometer.  Deep breaths were followed by large puffs of air blown into the clear container lined with blue numbers.  With each breath, I would force myself to get the indicator inside higher and higher – a sign of improved lung function. 
It had been two months since my cardiologist gave me a towel to wipe off the ultrasound goop and informed me that there was a mass in my chest and fluid around my heart and lungs.  He told my mother and I that it was most likely Hodgkin's Lymphoma, and asked which emergency room we would like to be sent to.  Within days, a chest tube was inserted, biopsies were taken, and suspicions were confirmed.  After the two liters of fluid were drained from my heart and lungs, I began my treatment for Hodgkin's Lymphoma (Stage 2A).  
Determined to graduate on time, I underwent treatments while attending school.  Two weeks on, two weeks off – just like clockwork.  In my spare time, usually after an episode of struggling to breathe that left me particularly embarrassed, I would breathe into the incentive spirometer.  It really didn't take much.  Walking up the staircase in my high school used to leave me breathless and a little bit dizzy.  The time I "ran" (stumbled/barely jogged) through Port Authority to grab a bus home left me hyperventilating to catch my breath for almost thirty minutes.  The chest tube had removed all of the liquid, but it also left me to rebuild my lung capacity.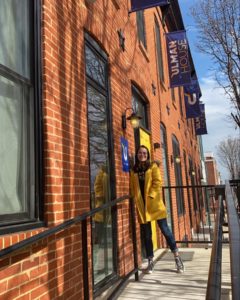 As treatments ended, I let myself believe that this was the only change needed for my lung capacity to improve, not wanting to acknowledge that my cancer experience still had a hold on me. I knew it wasn't completely back to normal, but I liked to think it was at least "halfway there".  With this "shift" came an even bigger life change, college.  It was at the start of my freshman year that I discovered 4K For Cancer.  I was immediately drawn to this program and their desire to create support and community for young adults impacted by cancer.  My community of friends and family was what got me through my treatments after all.  My family who took time from their jobs to be with me.  My friends who visited me in the hospital and still gave me rides to school (even though I forced them to pull over so I could throw up far too frequently).  My doctors and nurses who laughed at all of my awful jokes and made me feel loved.  These were the people that got me through my rough days.  With that in mind, I was determined to sign up for 4K.  I attempted to go on a run with a friend and we hadn't even made it a quarter of a mile before I told him I needed to stop.  So, in reality, I had just barely made a dent in improving my lung capacity.
Embarrassed and frustrated by my lack of capability, I stopped trying to exercise. 4K would have to wait. In fact, I didn't step into my college gym until my sophomore year.  I will never forget my first class.  Halfway through, I told the woman I was going to the bathroom, but instead, sat in the hallway trying to control my urge to throw up.  By the end of this year, I decided once again to put 4K on hold with the idea that I would spend the next year preparing.  Junior year wasn't spent focused on running though – I had focused on the exercise I knew I could do with ease, yoga.  This didn't leave me in a good space to sign up for 4K, but I quickly realized the summer after graduation might be my last opportunity to do it.  So, having not run a mile since junior year of high school, I applied.  When I found out I had an interview, I forced myself to go run a mile (just to make sure I could do it).  I naively assumed that running was just like walking and that I would be totally fine before jumping in without a life vest.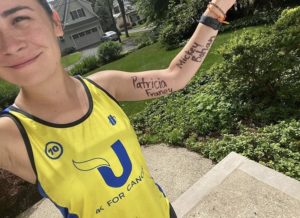 In truth, my 4K team/community was my life vest.   They helped me on my journey to learn how to run, cross train, and fuel.  These seasoned runners and bikers welcomed me with open arms – not once passing judgment on my inexperience.  They offered me advice, encouragement, and friendship.  As the year continued on and the uncertainty of COVID-19 came looming, my team held on tight.  While of course disappointed, we welcomed the idea of Zoom and GroupMe being permanent fixtures to our experience with open arms.  The virtual dedication circles, the gentle reminder messages about why we were all participating in 4K – they meant more to me than I'm sure anyone realized.  The zoom calls became hard to maintain with varying schedules and time zones, but their infrequency made them all the more special.  I was always excited to log on and see the faces of these strangers turned friends.  Ready to complain about running, offer and receive motivation, and to learn about their lives.  While it was not the experience I anticipated, it is an experience I will never forget.  4K For Cancer and my teammates continuously pushed me to challenge my preconceived limitations.  They reminded me that not only can I now walk up a staircase, but I can run for miles. To this experience, this program, and my team I will always be grateful.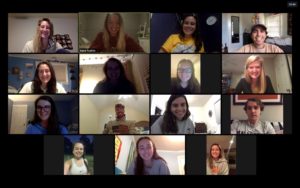 RELATED POSTS
Jen Anotelli
Ulman House: A Magnificent Lighthouse By Julia, Ulman House Resident The first time you hear those three spectacularly awful words, a thousand questions pop into your mind. The doctor says, "You have cancer," and suddenly the way forward