5 Questions with a 15 Time-Marathoner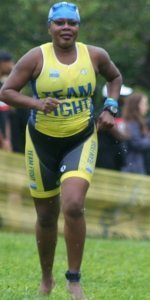 Team Fight member, Toks Fashola, will be participating in her 15th Baltimore Marathon this weekend at the Baltimore Running Festival!
She is one of 30 individuals who have participated in every Baltimore Marathon to date, so we wanted to take a few minutes to recognize her for this great accomplishment and learn a few things about her as well!
1.What's your favorite part of the Baltimore Running Festival? 
My favorite part is running in West Baltimore, around Lexington Market. I usually buy my Fish at Faidley's and they come out and encourage us when the race begins.
When I come by towards the end, I know that I am very close to the finish line. :-), and that is GOOD!!!
2. Why do you participate in Team Fight? How has it become important to you?
After my first year, Team Fight began to volunteer with Hope Lodge, I also visited some patients in the hospital, and I got to know a lot of the Team Fighters. 
It is important because Cancer is a vicious disease. Team Fight helps to keep me grounded, and it helps me to remain grateful and thankful for life and for being cancer free, even when I am upset. 
The different endurance exercises that we go through in Team Fight practice are steps taken in the direction of the fight against cancer. I know where my money is going.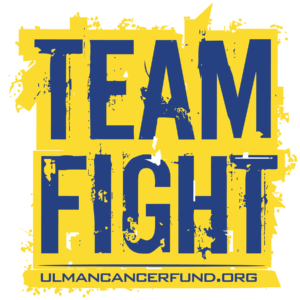 3. What motivates you to keep moving after all of these years?
No matter how difficult the event, and no matter how much the pain, I realize that it is still easier than fighting cancer.
I remember boohooing when I received one of the volunteer of the year awards. 
It really meant a lot to me, because that year we lost three young adults, and we visited them either at Hope Lodge or in the Hospital.
This year, the memories of Anthony BigSixthree Harvin, Dale Sanders, Nicholas O., and Troy Lewis are motivating me. 
Also, the continuous fights of TJ Rufty and Darrel Henry (to name a few) will keep me moving. And the lovely darling children from Ronald McDonald House.
4. How long do you think you'll keep your Baltimore Marathon streak going?
Maybe another ten years or longer?  At least until I am no longer able to run the Marathon, then I will run in other races, and I will continue to volunteer.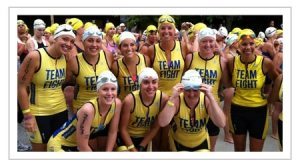 5.What tips do you have for people considering signing up for a marathon or other challenging endurance event? 
Just do it.  The pain that you go through during your training is a kick in the face to cancer and other debilitating diseases.  Someone will always say thank you.
Learn more about
Team Fight
and how you can help support the mission of the Ulman Cancer Fund by training for and participating in any fitness activity or endurance event  – anywhere in the world!
RELATED POSTS
Jen Anotelli
Ulman House: A Magnificent Lighthouse By Julia, Ulman House Resident The first time you hear those three spectacularly awful words, a thousand questions pop into your mind. The doctor says, "You have cancer," and suddenly the way forward