A Letter From Team Portland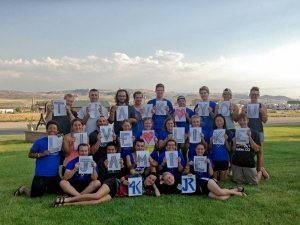 Dear Ulman and 4K Family and Friends,
To state what must be painfully obvious, those of us on Team Portland 2014 will never forget the day of Jamie Roberts' passing.
As news of her accident and death spread among the scattered riding groups, not much in the world mattered to us besides our fallen teammate.
As we vanned or even hitchhiked to the hospital, hugs were exchanged and tears flowed freely. As we tended to our teammates who were in Jamie's riding group, it took every bit of strength we had left to prevent ourselves from being shattered into pieces by grief.
Cruelly accompanying our grief was utter uncertainty about the future of our team.
We had no idea what would happen for the rest of the day, let alone whether we would get back on our bikes or ever ride into Portland together.
In our moment of anguish, some of us thought that Team Portland's ride would be cancelled for 2014, that we would be told that it would be too difficult to keep riding, too complicated to support ourselves after this tragedy, and that it would be easier for everyone to go home to grieve on their own.
So that's where we stood on June 13, 2014, stricken with grief and uncertain about our future.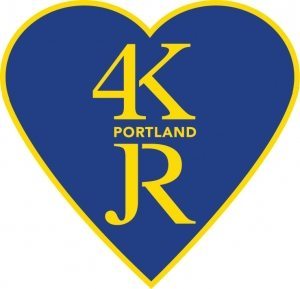 But now four weeks have passed and we stand in a very different place. We have been transformed not only as a team, but also as individuals. 
The purpose and meaning behind our ride is also transformed, because now we ride for more than just our own family and friends.
Now each morning when we form our dedication circle, we also ride for Jamie, her family and friends, and all the individuals for whom she was riding.
Of course from time to time we continue to shed tears for our beloved teammate, and we have moments when we agonize over why this tragedy has happened.
But although this tragedy has hurt us, we are being healed and made even stronger than we were before. We have begun the slow but steady process of not only mourning our loss of Jamie, but also appreciating just how much she inspired us in the fight against cancer in just the two short weeks we spent with her.
Now we talk about her with smiles on our faces, and laugh about the times that she ate mac and cheese and watermelon together or told us that her favorite food was hot dogs, "because they're juicy."
But we would like to make it abundantly clear that we have not come to this place by our team's strength alone. As much as we have come to this place as a team, we have also been brought here by all of you and your support.
To the greatest extent possible, we as a team would like to express our thanks for all that you have done, from the smallest to the biggest acts of kindness that has made it possible for us to come this far on our journey.
We want to thank the Roberts Family for not only asking us to continue our ride to Portland, but also meeting and comforting us by sharing memories of Jamie, though their suffering is far greater than our own.
We thank them for inviting us to partake in Jamie's Celebration of Life Service and providing more pigs in blankets than (maybe) even Jamie could eat.
We thank Mr. Bob Roberts for his repeated references to Forrest Gump that help us realize how fleeting but precious life can be. 
We thank Jamie's sister Julia for the daily quotes that inspire us in the mornings and remind us of Jamie's strength and perseverance.
We thank Jamie's friends, teammates, teachers, and colleagues for sharing even more embarrassing and silly stories of Jamie and allowing us to feel closer to her.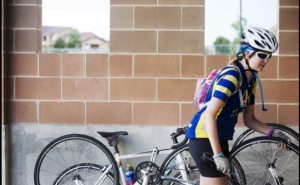 We thank the Ulman Staff for their tireless efforts: Krissy Kraczkowsky and Brock Yetso for arriving so quickly after the accident and finding grief counselors and therapy dogs for us on such short notice, Brian Satola for driving three hours with one of our teammates to look for a lost backpack and being generous (or foolish) enough to open up his home and family to our team smells and dirty laundry, Nicole Considine for biking into Chicago with us and not letting us get in the charter bus until she had a chance to hug us, Stephen Hersey and Nate Wineland for coming along with us to transport all of our luggage and bikes, and all other Ulman and 4K staff who met us in Maryland and offered us words of kindness and love.
We thank all of the 4K parents who helped us feel more at home by sending or bringing baked goods and candy, which by the way we eat even when not biking. 
We thank the parents who made all of us feel like part of a big family by hugging not only their own children, but also those of us whose own parents couldn't make it in person to Maryland. 
We'd like to extend special thanks to a certain father who sent a mysterious looking package that ended up being filled with noisemakers and whistles and fake mustaches (for the ladies, as per Mr. Lake's very specific instructions) that made us laugh.
We thank the 4K San Diego, San Francisco, Seattle, and Running Teams for their comradery as fellow 4K teammates and for continuing to ride or run to raise awareness on behalf of the seventy thousand young adults diagnosed with cancer each year.
We thank the 4K alumni for empathizing with our sorrow and offering their assistance in so many ways as part of the larger 4K family.
We thank our friends at the Navigator Management Partners for their letters of kind words and sympathy. 
We thank Barry Sherry for offering us not only guidance through the Appalachian Mountains, but also sympathy as we recover from this tragedy. 
We thank teams from Bike and Build and Texas 4000 for letting us know that we are in their hearts. We thank Ryan Pierce for returning to us so quickly and helping us grieve once he heard news of the accident.
We thank Seth and Amanda Hoxworth for their incredible generous donation of tubes and tires and other gear.
We thank all of those participating in "Miles for Jamie" for helping increase Jamie's total miles to extend not only to Portland but even beyond and practically into outer space.
We thank all of those who donated to the Ulman Cancer Fund in Jamie's honor and helped her shatter the 4K fundraising record.
We thank all of our hosts, past, present, and future, for making this trip logistically possible through so many hot showers and meals and roofs over our heads.
We thank all of those who are unnamed here, from staff and parents and friends doing things that we may not be able to see at this moment to complete strangers who upon hearing our story emptied their wallets to donate to our team and Jamie's memory.
We may never meet you in person but we would like for you to know that we truly appreciate your support.
As we look towards the rest of our journey, we know that you will be there with us, providing the tailwind that motivates us to continue when the days are long and the sun is beating down on us.
Your support has already helped carry us up and down the Appalachian Mountains and sail across the plains (and unexpected hills) of the Midwest. 
We will think of you as we wind up the switchbacks of the Rocky Mountains and when we reach the highest peaks of our climb we will remember that it is more than just our legs that put us there.
When we cross into Oregon and finally dip our front tires into the waters of the Pacific, we will be grateful to you for helping us cross the nation, coast-to-coast, ocean-to-ocean.
And although on that fateful day in mid-June we were nearly overcome by grief and uncertainty, we have no doubt that with your love and support, on August 9, 2014 we will all ride into Pioneer Square filled with joy and laughter and in a manner worthy of Jamie Roberts, aka the "Dancin' Lobsta'."
Love,
4K Team Portland 2014
You can contribute to Jamie's fundraising efforts by following Team Portland. Support the mission of bettering the lives of young adults, and their loved ones, affected by cancer that Jamie cared so much about. Cancer changes lives…SO DO WE!
RELATED POSTS
Jen Anotelli
Ulman House: A Magnificent Lighthouse By Julia, Ulman House Resident The first time you hear those three spectacularly awful words, a thousand questions pop into your mind. The doctor says, "You have cancer," and suddenly the way forward