Let's Talk about Breast Cancer Awareness Month…
by Ashleigh Erbe, GameChangers class of 2020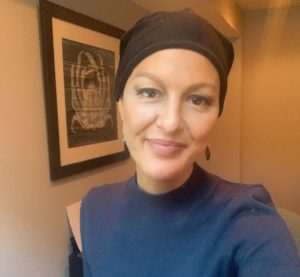 October, Breast Cancer Awareness Month, just ended. As a recent breast cancer survivor myself, I'm all in on awareness…but when I reflect on this past year's experience, I ask myself, what are the current efforts making us aware of? 
In June of 2020 my fiancé found a lump on my left breast. At that time, it was the size of a peanut, and fortunately I had my annual OB/GYN scheduled the following week. When I went to that appointment, I was told that, given my age, it was likely a fibroadenoma and not to worry, but I was still sent for a mammogram to be safe. Because it was the height of the COVID-19 pandemic and we were advised to stay home, I procrastinated scheduling that appointment. Two months later, that peanut had become the size of a golf ball. But still, as I called to finally make that appointment, I remained in denial. I mean, I knew breast cancer in young adults
did
occur, but I was sure this couldn't be it. 

Ashleigh and her fiancé
Mammogram, sonogram, and biopsy later, sure enough on October 5, 2020, surrounded by a sea of "pink" kicking off breast cancer awareness month, I received the call that I had breast cancer. Stage 3, estrogen receptor positive, incredibly aggressive breast cancer. I was unprepared for the decisions I would have to make in the ensuing weeks and naive to the ways chemo and its pre-meds and post-meds may affect my mental health. 
Things got dark. Very dark. So I write this with an understanding of just how brutal cancer treatment is to your mind, body and spirit. 
Here's my punchline regarding awareness: women are always told to "check our tits," but we're not given much insight about the treatment journey itself.
Breast cancer is on the rise in young adults; it's the leading cancer diagnosis for women 15-40 each year. For us, it tends to be diagnosed in later stages, and to be more aggressive. Our age group is underrepresented in research studies. And it can happen to anyone; I have no genetic predisposition to this beast. 

Ashleigh at a cancer treatment center
So let's talk about the raw experience of being diagnosed with breast cancer at a young age. You are stripped of your femininity, the life path you have been working towards comes to a screeching halt, the body you have been living in is about to become alien, and you may be surprised by the reactions some friends and family have to your diagnosis. 
Cancer almost took my life, and not because it metastasized or because I got an infection or virus with my weakened immune system. I literally had a mental breakdown (remember I said things got DARK). I did something that I didn't really want to do or had even thought of before. Despite the outpouring of support from long lost friends, current friends, my girl gang, my fiancé and his family, colleagues I had worked with for 13 years, and nonprofits like the Ulman Foundation, cancer, COVID, and everything that comes along with it took me down — mind, body, and spirit. 
It's also important to note that cancer isn't over when treatment ends.
It's the gift that keeps on giving. Sure, you just lost every hair on your body (including nose hairs which caused incessant bloody noses ruining your favorite shirts), you just lost your reproductive system and maybe you haven't even had children yet, and you may have lost your breasts. Welcome neuropathy and lymphedema; I've had to get my engagement ring re-sized twice already. Welcome to your new body…welcome to your new start. 
Cancer and its treatment seeps into every part of your life, and its effects last long after you ring the bell or have your reconstruction. It changed the trajectory of the future I had envisioned: I will never be able to give birth to children of my own — a brutal reality after just having gotten engaged months before my diagnosis. I wake in the middle of the night and can't feel my fingers or toes (it is SO uncomfortable), and I have a revolving schedule of "check-ins" with my medical oncologist, surgeon, plastic surgeon and radiation oncologist which are disruptive to my work day. Oh, and there's a horse needle injection I get in my abdomen every month to keep me in perimenopause, and the bloodwork I constantly give to make sure my hormones are in submission. Cancer will always be a part of my life, and there's nothing I can do to change that.
Circling back to that awareness thing — I wish the awareness incorporated raw information about the actual human experience of being diagnosed with cancer at a young age. Perhaps I would have been more inclined to spring into action sooner. Maybe I could have caught this tumor before it spread its tentacles into my lymph nodes. Maybe I wouldn't have had the kitchen sink of treatments thrown at me. Or maybe I just would have been better prepared for what the ensuing months brought down on me. 
I want you to be aware that nonprofits DO help, and they are grossly underfunded.
Ready for a big dose of irony? My former boss nominated me to participate in Ulman's GameChangers program in 2019. I signed up enthusiastically, because who would argue that supporting young adults living with cancer isn't a great cause?! During my nine months as a GameChanger, I made some lasting friendships, raised a bunch of money, and learned a lot about cancer in young adults and its side effects and complicating factors. Then, literally a few months after my GameChangers experience came to a close, I was diagnosed with breast cancer. I learned for myself that
everything the folks at Ulman said about cancer treatment, its financial implications, the social isolation, the impact on fertility, and the overall shittiness of cancer is SO true.
Which is exactly why the Ulman Foundation exists. You and your immediate support system can't do this alone. 
I will be forever grateful for the assistance I received in navigating cancer, the visits that the current class of GameChangers paid to me, and all the ways that the Ulman community embraced me when I became no longer just a supporter, but also a client. I wish there were an Ulman Foundation in every state, because a gaping hole exists between the services hospitals can provide and the real needs young patients have. Ulman helps fill this gap for many people, but I know there are so many more young women like me who are going at it alone, and they desperately need support that only the nonprofit sector can provide. 
So, when you see all that pink merchandise on the shelves next October, or get asked to round up your purchase to support breast cancer awareness, go ahead and round up or buy another pink ribbon-emblazoned item. It certainly helps.
But please, remember that there is so much more to be aware of beyond just the existence and prevalence of cancer.
And turn that awareness into action to care for those who are struggling, however you can.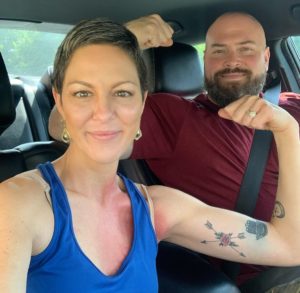 RELATED POSTS
Jen Anotelli
Ulman House: A Magnificent Lighthouse By Julia, Ulman House Resident The first time you hear those three spectacularly awful words, a thousand questions pop into your mind. The doctor says, "You have cancer," and suddenly the way forward