Take your next step with Ulman this #AYApril, a month-long campaign to educate, fundraise, spread awareness, and recognize and remember exceptional AYA cancer fighters, survivors and thrivers.
Help support AYA cancer patients and Ulman Foundation's mission during #AYApril:
The Ulman tradition of Dedication Circles began on the original 4K for Cancer to boost morale and stay grounded in their mission to support loved ones impacted by cancer. We also borrowed the name for our sustained giving program.
#AYApril Fundraising Challenge
Who says FUNdraising can't be fun? Download our handy bingo sheet and post it on your Instagram or Facebook story. Encourage your friends and family to help you fill up the bingo board! When you receive a donation, cross out the donated amount with a check mark, sticker, or GIF, and don't forget to thank your donors. Tag @UlmanFoundation so we can see your progress!
Facebook Cover Photos
When you click "download" the image will open in a new tab, then right click and select "save as" to save to your computer.
Use our #AYApril photo frame on Facebook!
Add our #AYApril frame to your Facebook profile picture to help raise awareness about adolescent and young adult cancer.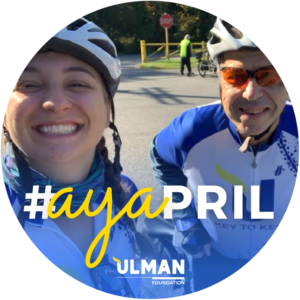 Thank You!
You are providing a community of support everyday for teens & young adults facing cancer.
See your impact →