The Best Commercial I Ever Made
with Dan Schepleng

.
Dan Schepleng is the Creative Director and President of Kapowza. In the fall of 2019, the Ulman Foundation had the pleasure of collaborating with Dan and Kapowza in creating a video to help tell the story of the very personal work we do. Little did we know it would be incredibly personal for them too. Read on to hear Dan's thoughts on filming this impactful video.
I love commercials – good commercials. I have ever since I was a kid. Now as an adult, I get to make them. I write and direct commercials for the agency I started – Kapowza. We've made probably two dozen or so. Some of them were big and national, even a few regional Super Bowl spots. Crews of 30-40 people, multiple days of shooting. I love this way of working, and in the middle of a global pandemic, I really miss it. The early mornings, the challenges, and the people. Nothing beats crew folk. They're the hardest working, funniest, most talented people in the world and I have had the pleasure of working with some of the best, many of whom are still close friends to this day.
But none of these big commercials have been as creatively fulfilling, fun, and challenging as a simple video we made, mostly on my cell phone, in one day, with a crew of just one, plus me.
The Cancer Stories spot started as most spots do, as a conversation. What are we trying to say? What story are we trying to tell? The writing process is the most part important for us. Without a good script, you can't have a good video. So we spend a lot of time there. Diving in, learning about the Ulman brand, the cancer world, and the stories that young adults have.
I dove in particularly hard on this one.
I found a subreddit for cancer patients. It was basically an online support group, a place where everyone affected by the disease could come and be together – to sit around the virtual campfire, tell stories, laugh, cry, and not feel alone. I read post after post. Some heartbreaking. Some uplifting. I found blogs that detailed the journey some patients and their loved ones had. I found a photographer who told the whole story of his wife's battle in quick black and white snapshots.
We usually write too many scripts. It's a problem. Clients get weirded out when you show up with fifteen different fully formed stories. I like it because we put all ideas on the table and talk out the pros and cons of each. This has worked better for some than others. Sometimes I think clients would rather have an easier choice.
This time I could only write one. It was hard, even then. It was such a specific subject. We also had to work within a lower budget than we were used to. But after a string of larger shoots, we were happy to do it. I never want the budget, the production tools, and toys to be the only drivers of quality. I want to make sure we still have it, even when we're shooting on a phone.
I wrote the original script for Cancer Stories on Tuesday, June 18th. You can read it here if you want, but it's largely what we shot – which is rare for a first draft. We showed it to the folks at Ulman Foundation a few weeks later on July 2nd before heading off to the long holiday weekend. To be honest, their reaction to the script wasn't huge. There wasn't applause or back-slapping (which has happened before). More of a "what would we do with this" kind of conversation. We talked about how we'd film it, how we wanted to use a real patient with a real story and how they immediately had someone in mind.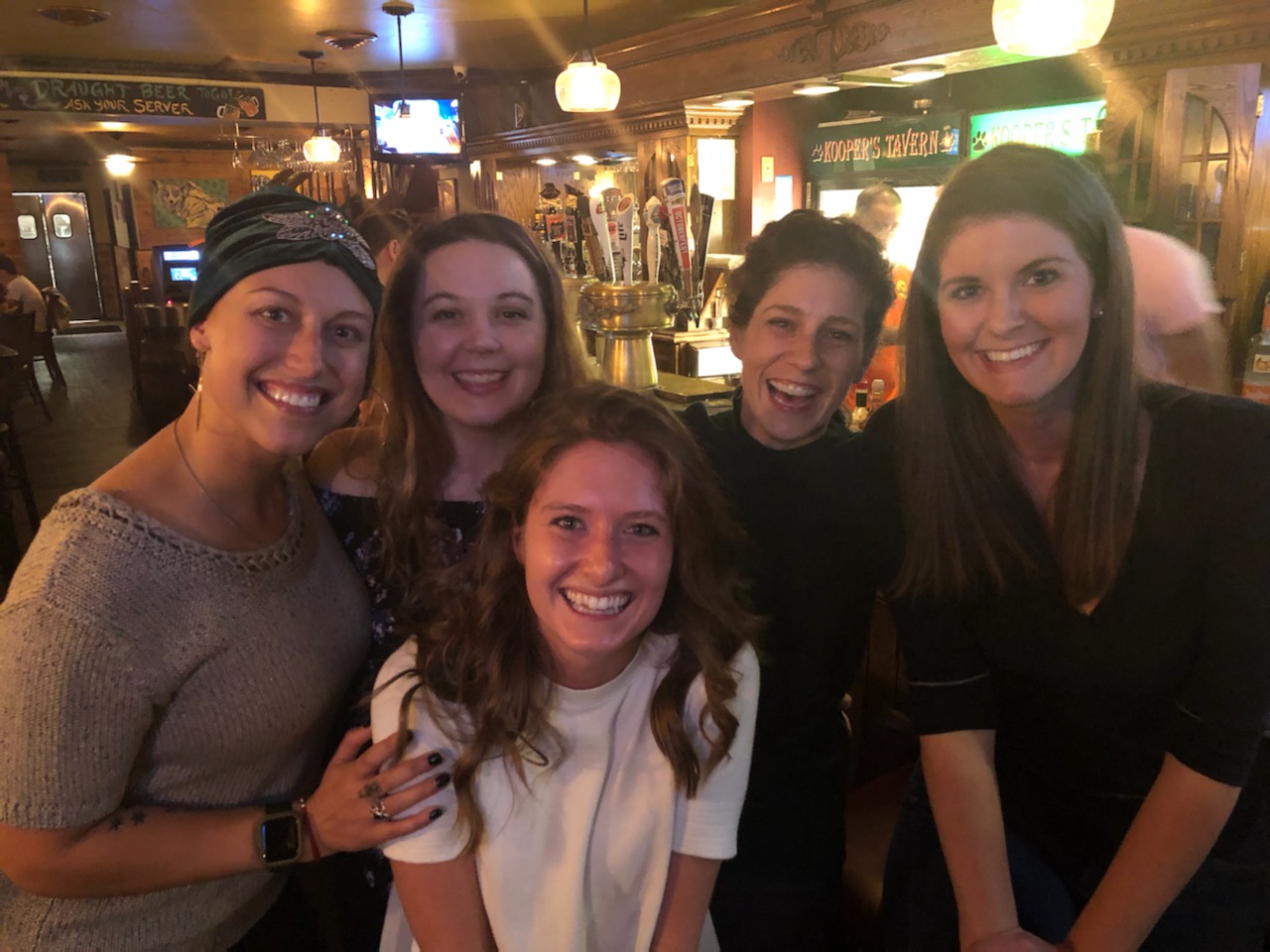 It would be my first time using non-actors in something since high school. So I was a little nervous but I knew we could get what we needed, and that authenticity was more important than anything else. I didn't want to just hire some actor and shave their head and assume they could represent this story. I also didn't know what to expect. This is life and death stuff and living it out in a dramatic fashion could prove a bit heavy.
There were a few weeks of putting schedules together, trying to find a hospital we could film in (honestly this was the hardest part of the production), and trying to find a date that would work. Months went by and we actually went off and filmed some large national commercials and a music video. Big productions with lots of moving parts. But I always came back to this story, this script, and this way of filming. We had to make it happen, and not just to cleanse the palate from the larger sets, but because this story was such an important one to tell.
We filmed on October 10th – a little more than four months after writing the first draft. We had found our hospital, found our other "actors," and found our lead in Jess. She was the woman the Ulman staff had in mind from the beginning. The schedule was easy, compared to a larger shoot. Three locations, no gear, no army to move, and most importantly: no lighting. Lighting is what takes all the time up when filming something larger. It can take hours, sometimes days, to get everything set up and to be honest, as a director, most of the time I'm sitting around, drinking coffee in my fancy chair, watching people light. Once lit, scenes don't take long to film.
But here we were, no lights, and just cell phones. I had hired a "swing" as we call it. Someone who could light, mic, help out. Matt was a trooper because most of the time, I didn't have much for him to do. I was worried that we'd get stuck in a dark hole and would need some light to bounce and he was way more qualified than I was to do that. We did light one scene – an orange glow from the Ulman House windows during the "evening" that we shot in midday. That was it.
We all met at Ulman House first, around lunchtime. A gorgeous refuge near Johns Hopkins Hospital that seems like Hollywood's idea of a dorm. We were using this location as Jess' bedroom and we had various shots to get throughout the year-long arc of the video's story.
I don't remember the moment Jess walked in with her mom, but I do remember her smile and her glow. She was so warm and friendly, and happy to do whatever. Most importantly: she had her own great ideas. Truly. Sometimes I would be going on and on about something I wanted to get and she would just grab my phone and shoot a better version of what I was thinking of. For having never acted, she was great. She wasn't self-conscious, she was confident, and she emoted naturally.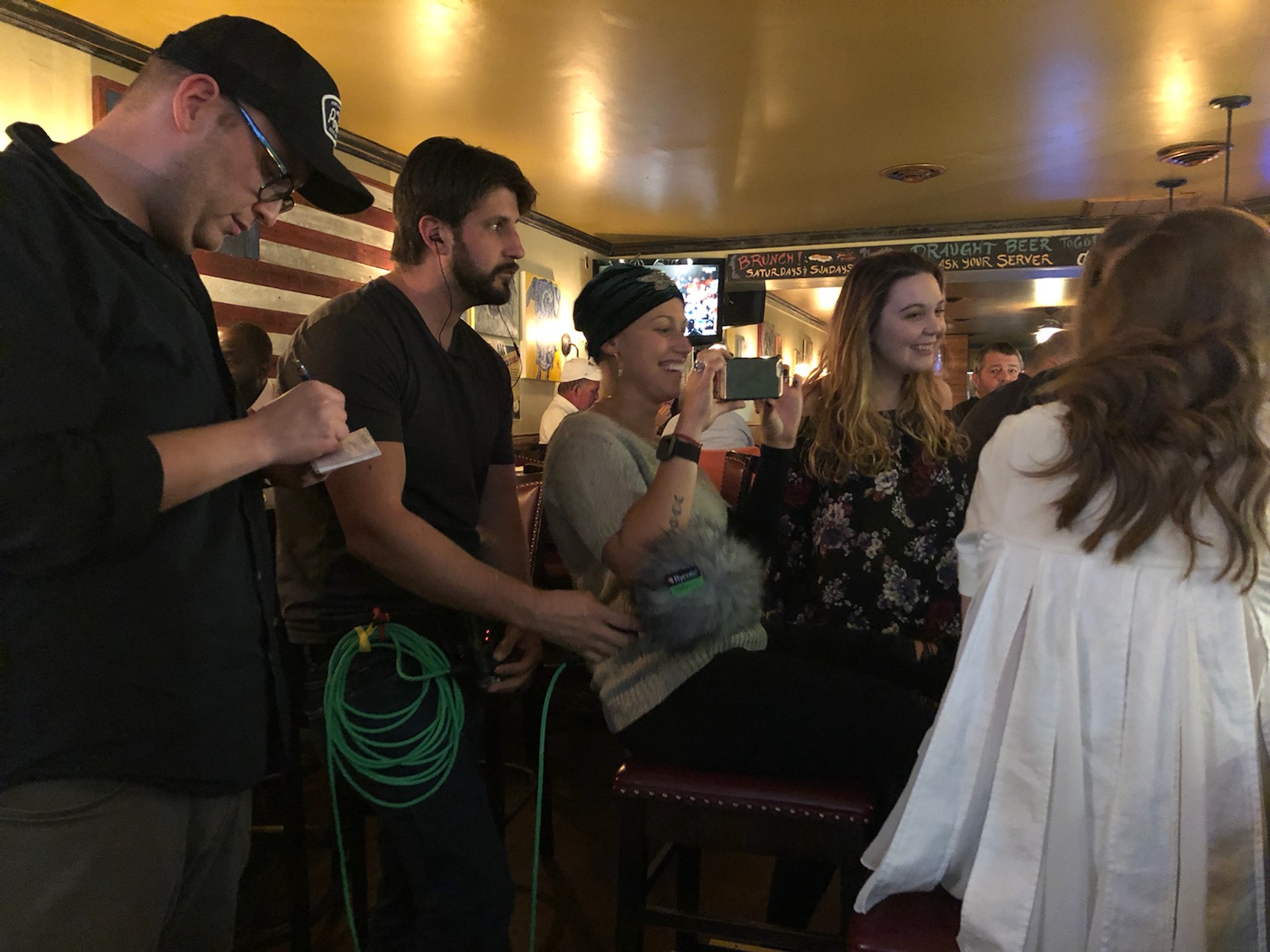 After the first take on the first scene, I knew this was going to be something special. Not because of what we had written, or what we had thought about over the last few months, but because of Jess. She really was great. I couldn't have cast her part any better if I tried, because she was willing to be real and vulnerable and bring elements of her very own story with cancer into this fictitious one.
The rest of the shoot was a blast: joking in the hospital; Jess stealing an IV bag and pole, laughing at how much she gets away with; walking around Fells Point, trying (and failing) to film with my phone and not look like a weirdo; actually drinking the drinks in the scene, for uh, authenticity; and bonding with Jess and her wonderful mother who I just kept calling "mom." There was a moment at the end of the night when I couldn't get my garage parking ticket to work and Jess waited to make sure I got on the road okay. I don't know why that stuck with me, but it did. We all hugged (remember hugging?) and drove into the night.
I'm nervous with every edit. At least during a shoot, you can fix something, but once you sit down to edit, there's no fooling anyone, least of all yourself. If it doesn't work then it really doesn't work and you have your task cut out for you. It's almost impossible to save a bad video with a good edit.
Watching the first edit now, it's largely the same as the final, aside from the music. The file timestamp says October 15th, at 6:06 pm. I always do an export at the end of the day so I can bother everyone with drafts. If you know me or have met me, you most likely have gotten a cut of something for notes and feedback at some point. I remember the next day, crowding the team around and showing them the cut, there was not a dry eye in the house. We talked about the edit, the pacing, the music. What could be better, what could be tuned, but mostly it was all there in the first cut, just like the first script.
Looking at the final version now, I just think about how easily it all came together. How it wasn't a struggle, aside from some music options, but even that was no big deal. Ultimately, I only cared about two opinions: Jess' and mom's, and I'm happy to say they both liked it.
This spot changed how I thought about commercials, productions, and how to do work for non-profits. All it takes is a good story. The "toys," as much as they can help, don't always matter.
I'm honored to say I'm still friends with Jess and we all got to hang out the night this spot won an ADDY. It was a great thing to be a part of, and it's something I'll never forget.
RELATED POSTS
Jen Anotelli
Ulman House: A Magnificent Lighthouse By Julia, Ulman House Resident The first time you hear those three spectacularly awful words, a thousand questions pop into your mind. The doctor says, "You have cancer," and suddenly the way forward