Cancer Survivor's New Year Resolutions
by Amy Malczewski, #facingtheissues
As another New Year approaches, there's lots of buzz around new resolutions; people making gym memberships, quitting bad habits, eating healthier foods, and better managing their stress in every day life.
What about you and your cancer diagnosis?
You've always had a healthy diet.
You've always taken the stairs, and you go on a run every morning before work.
You've never smoked a day in your life.
Still, you find that at such a young age you have been diagnosed with cancer, and you can't help but think with the entire buzz being around these seemingly simplistic resolutions,
why me?
Looking forward into the New Year, we, at The Ulman Cancer Fund, reflect on one of the first patients we helped as an organization 13 years ago. A now cancer free, advocate, speaker, and purposeful living expert,
Tamika Felder
writes about how '13' can be a lucky number, and the positivity she now surrounds herself with.
Rather than thinking
"why me"
, embrace life this holiday season and New Year. Follow Tamika's advice, and you could change your entire outlook on life. Here are some things she suggests: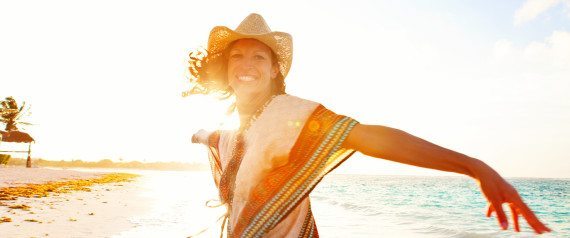 It's OK to reflect.
You can't truly appreciate how far you've come unless you look back on where you've been. But, remember it's just a reflection. Don't let it consume you.
Have a pity party.
What happened to you was messed up. Doesn't matter whether it's Stage 0 or Stage 4 — cancer is not fun. So, take time to be sad, to accept the blow you've been dealt. But remember – you have to move on and fight for your life, because it's going to take everything you've got — mentally and physically.
No longer sweat the small stuff.
I know just how short life can be. Therefore, I don't want to waste time on things (or people!) that really don't matter.
Cherish the people who really matter to you.
Cancer taught me who my true friends were and my circle became much smaller. That annoying friend that you're always ducking… just cut them loose. That family member that makes you so uncomfortable…you may not be able to cut them loose, but you can cut them back… seriously, way back. Your time is precious. Choose to spend it with people who matter.
Love the skin you're in.
For the longest time, I yearned for my life before cancer. The truth is that you are no longer that person. Embrace the new you. It just might surprise you!
Stop living in the past.
Don't let your experience keep you from living. I have an acquaintance in the cancer community that I see on a regular basis and she is so afraid to live. She lives in fear, constantly, always waiting for cancer to reemerge. I get it. I really do. But those of us who are still here are blessed to be alive, no matter the physical or emotional limitations. So live… like never before.
Enjoy life.
Prior to cancer, I hardly ever took vacations. Typically, I would take one in the summer and another at Christmas. I never thought I had enough time, money or a break in the workload. You have to rest and reset. All work and no play… you know the rest!
Happy New Year, 2015!
RELATED POSTS
Sasha Nader
Ulman House Ribbon Cutting Four years ago we shared an audacious vision of building a place where young adults could feel at ease and be free from the burden of hotel costs during cancer treatment. We launched our first