Cross-country bikers rest at local church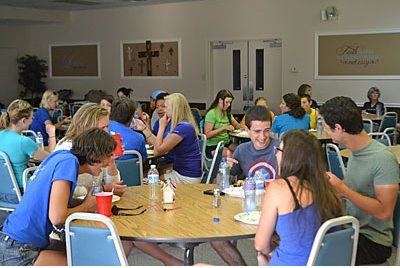 Bicyclists on the 4K for Cancer, a 4,000-mile bike ride to raise awareness, enjoy dinner at Saint John United Methodist Church.
Zirconia Alleyne | Kentucky New Era
The 4K for Cancer Team San Francisco made a stop in Hopkinsville, KY on their cross-country cycling trip. The purpose of the ride is to raise awareness and funds which provide resources and support to young adults and their loved ones affected by cancer.
As reported in the Kentucky New Era:
"Saint John United Methodist Church on South Virginia Street welcomed the group with food and a place to
clean
up and sleep overnight. Many of the riders were surprised by the hospitality.
Carolyn Barrett, 21, a senior at Loyola
University
Maryland, said they usually eat pizza when they stop, but in Hopkinsville, they were treated to hot dogs, hamburgers, salad, watermelon, brownies and more.
"This meal is great," she said. "A home-cooked meal is amazing."
Members
of the Little River Cycling Club helped out on the grill and brought in food.
Jason Whitman, a
member
of the cycling club and the church, said it was nice to help out other cyclists.
"When I was 13, I
road
  from Canada to Mexico with my dad," he said. "I know exactly what they're going through."
RELATED POSTS
Jen Anotelli
Ulman House: A Magnificent Lighthouse By Julia, Ulman House Resident The first time you hear those three spectacularly awful words, a thousand questions pop into your mind. The doctor says, "You have cancer," and suddenly the way forward