Cycling strong against cancer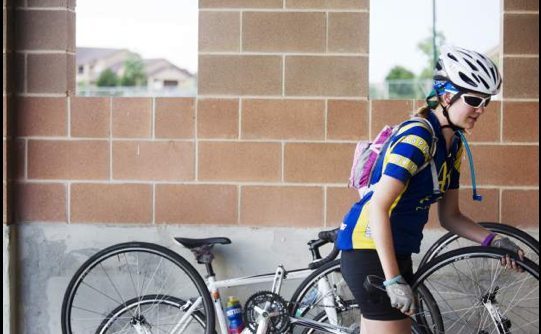 by ryan severance the pueblo chieftain
The Ulman Cancer Fund for Young Adults' 4K for Cancer Team San Francisco recently rode through Pueblo and picked up a piece in the
Pueblo Chieftain.
Twenty-six cyclists associated with the 4K for Cancer program are on the journey to raise money for the Ullman Cancer Fund for Young Adults — a nonprofit organization that aims to enhance lives through educating and connecting families affected by cancer.
The group's journey began in Las Animas on Sunday and ended about 93 miles later at the YMCA in Pueblo, as riders began trickling in at about 5 p.m. from their day's ride.
The riders started in Baltimore on June 2 and will arrive in San Francisco on Aug. 10, making this a nonstop 70-day trek.
"To get through this, honestly it comes down to the people on this team and their spirit," Lamie Nguyen, a 23-year-old rider from Maryland, said. "On a day like this when it's hot and the wind is picking up toward the end and we are all tired, what gets us through is the teammate riding right there next to us. When you have 26 people with that positive spirit you are able to bring each other up."
RELATED POSTS
Jen Anotelli
Ulman House: A Magnificent Lighthouse By Julia, Ulman House Resident The first time you hear those three spectacularly awful words, a thousand questions pop into your mind. The doctor says, "You have cancer," and suddenly the way forward