#FacingTheIssues: Sweet Summertime…and Cancer?
"How do you protect yourself, and your skin, during the summer months?"
With summer in full swing, the last thing anybody wants to think about is cancer treatment. However, it is often unavoidable in this season of pool days, cookouts and beach vacations. While undergoing treatment, and even after, people may be more sensitive to the sun, heat and other elements associated with summer. Don't let cancer treatment take away from all of the summer fun! With these summer-safety tips, there is no reason anyone should miss out on all that summer has to offer.
Here Comes the Sun
One of the greatest aspects of summer is also one of the most dangerous. The sun can harm everyone, but those undergoing chemotherapy and radiation are especially sensitive to its rays.
Try to limit exposure during the hours of 10 a.m. to 3 p.m., when the sun's rays are most intense.

Use a broad-spectrum sunscreen with an SPF of at least 30. Don't forget to reapply every 2 hours or after swimming!

Find shade as much as possible. When there isn't any, make your own with an umbrella or hat!

 Dress for protection! Make sure to cover surgical scars and areas exposed to radiation.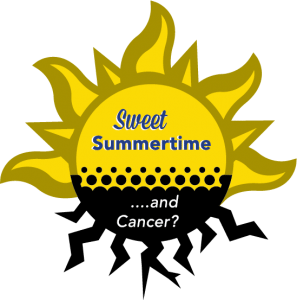 Beat the Heat
On these hot summer days/nights, being outside seems like the best option for a good time. During treatment, the body is not always prepared for the extreme heat and fatigue is a big risk.
 Don't stay out in the heat for too long at a time. Take breaks in the shade or air-conditioning to allow yourself to cool down.

Wear loose-fitting clothes in light colors and breezy fabrics. This can help your body maintain its temperature and prevent overheating.

HYDRATE! Make sure to drink plenty of water, even before you feel thirsty. Also, drink sports drinks like Gatorade to replenish electrolytes.
Happy and Healthy
When it comes to summer health, the sun is not the only threat. Many activities, such as swimming, eating, and playing outside can potentially do some damage. Since many treatments weaken the immune system, it is important to avoid harmful bacteria that can cause infection and illness.
Avoid public pools and oceans if you have a low white blood cell count. This can reduce the risk of waterborne illness.

At all of the picnics and cookouts, make sure food is thoroughly chilled, washed and cooked. This can reduce the risk of foodborne illness.
Summer should be a time of relaxation and fun, and cancer treatment should not be a hindrance. With the help of these simple tips, everyone can enjoy the sun, the heat, and all that summer brings!
Additional Resources
For more information on summer safety for cancer patients, in or out of treatment, check out the following sources:
RELATED POSTS
Jen Anotelli
Ulman House: A Magnificent Lighthouse By Julia, Ulman House Resident The first time you hear those three spectacularly awful words, a thousand questions pop into your mind. The doctor says, "You have cancer," and suddenly the way forward