#FacingTheIssues: To Bare or Not To Bare…That Is The Question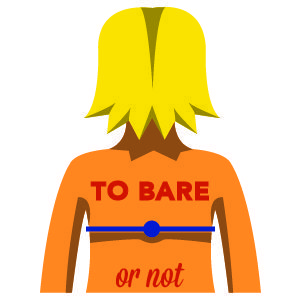 "How do you deal with body image insecurities during the summer months?"
During the summer, most of us wear less clothing. Warm weather = shorts, sundresses and bathing suits.
This seasonal change in wardrobe that so many people look forward to can be really challenging for cancer survivors.
Changes in your body, such as mastectomy, breast reconstruction and limb amputation, become more obvious.
Scars from ports or biopsies that were hidden under high collar shirts are now visible.
Wigs can often be cumbersome and hot, as well as downright impossible to wear in the pool or ocean. Skin pigment may have changed, or you may have lost or gained a significant amount of weight.
Since many people are not always familiar with these changes, their curious looks and questions may make you feel different and afraid to expose yourself.
But, there is no reason that you shouldn't be able to enjoy the summer with your new body!
Here are some tips for dealing with body image insecurity during the summer months!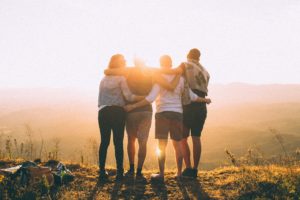 Be kind to yourself.
This is new territory for you and it's ok to feel nervous, self-conscious, etc.
At the same time, try not to let cancer interfere with doing the things you enjoy the most.
Practice in front of a mirror with multiple options.
You may have always worn bikinis before, but one pieces or tankinis may be better options for you now.
Being smart in the sun and skin cancer prevention awareness has lead to the development of lines of summer clothes and swimsuits that cover more of your body (and have the bonus of protecting you from the sun's harmful rays).
Have your first outings in more private places with close friends and family.
The first time you wear your new suit doesn't need to be on a crowded beach.
The first time you wear shorts with your prosthetic leg doesn't need to be a Saturday afternoon at a crowded mall.
Ask friends to hold a small gathering at a backyard pool or intimate restaurant to allow yourself to get comfortable.
Role-play answering questions.
Kids will stare. Friends that you only see in the summer will wonder what happened. Strangers will ask.
Most of this is just human nature and people don't mean to hurt you. Come up with a few sentences that allow you to share a brief summary of your circumstances and then take the conversation in a non-cancer direction that feels right to you.
"I was diagnosed with colon cancer over the winter. It has been hard but I have had a lot of support. I am so happy to be able to enjoy this beautiful weather. Do you have any special plans this summer?"
Remember that you are in good company.
You are not the only one with body image insecurities.
Many people, cancer survivors and non-survivors alike, feel unsure about parts of their bodies.
Whether it is body weight, hair growth, etc., everyone has their insecurities, so don't let yours stop you from enjoying the things you love with the people you love in the season we all love.
Additional Resources:
RELATED POSTS
Jen Anotelli
Ulman House: A Magnificent Lighthouse By Julia, Ulman House Resident The first time you hear those three spectacularly awful words, a thousand questions pop into your mind. The doctor says, "You have cancer," and suddenly the way forward