Fight to Become Your Own Champion — Self Advocate!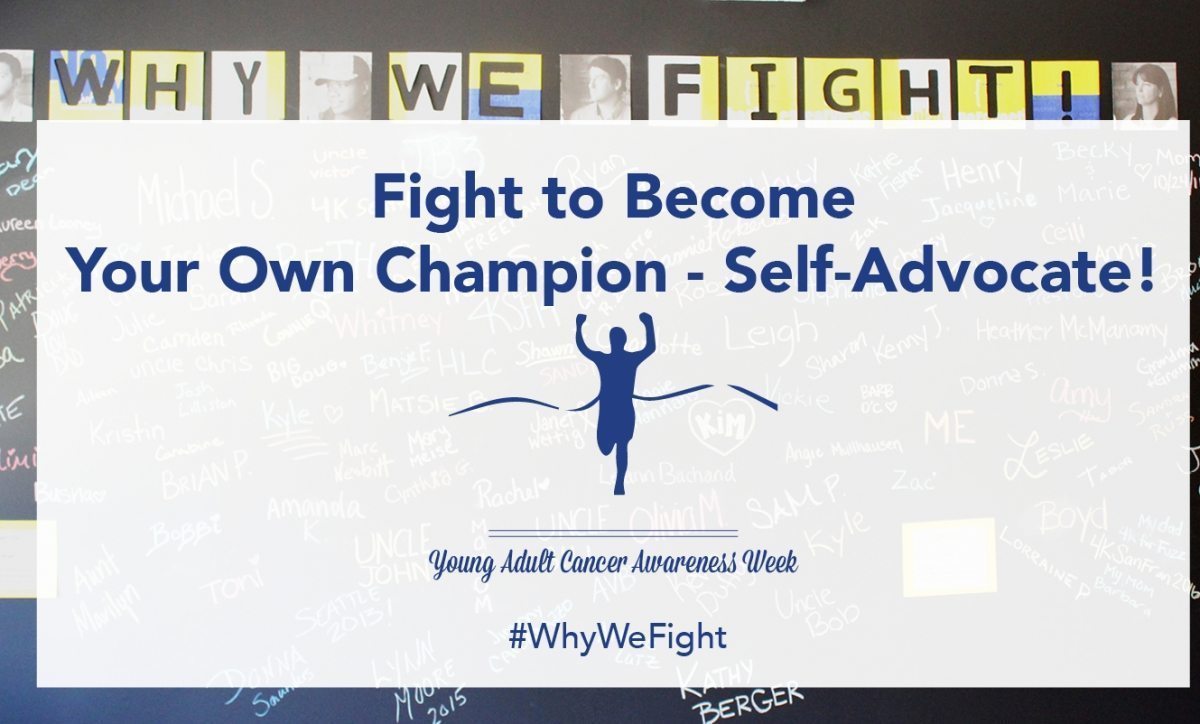 By Meghan Fitzgibbons, Young Adult Patient Navigator at Walter Reed National Military Medical Center
No matter where you might be in your cancer experience, newly diagnosed or 10-year survivor, self-advocacy is important! 
When you are a proactive and educated patient, you can influence the quality of your life and the care you receive.
In a situation where you often feel a loss of control, advocacy can give you stability and a feeling of regaining some of that control.
Some of the things you might do include:
Researching your disease and the treatments available

Using reputable and reliable sources for the information you seek

Ensuring that you understand the stage and/or grade of your cancer, as well as the impacts of treatment

Writing out questions in advance of medical appointments (and having a family member or friend take notes, while you listen)

Understanding your insurance coverage and how premiums, co-pays, deductibles, and co-insurances work

Deciding if you'd like to seek a second opinion and if so, pursuing that option

Connecting with other patients and survivors – online, at conferences, in support groups, etc.

Creating or updating your advanced directives, power of attorney, and/or wills
Self-advocacy requires that you participate in the decision-making processes related to your care. 
However, if you're not able to fully participate or you prefer it, self-advocacy can also mean selecting a 'team captain' from your support network. 
Advocating for yourself can often transform feelings of hopelessness and helplessness into those of hope and control.
For more information, check out:
http://www.cancer.net/navigating-cancer-care/managing-your-care/taking-charge-your-care
http://www.canceradvocacy.org/wp-content/uploads/2013/01/Self_Advocacy.pdf
RELATED POSTS
Sasha Nader
Ulman House Ribbon Cutting Four years ago we shared an audacious vision of building a place where young adults could feel at ease and be free from the burden of hotel costs during cancer treatment. We launched our first