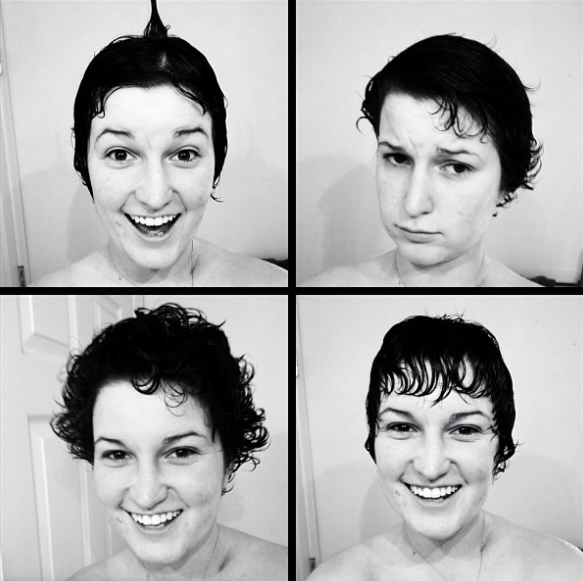 by Amanda Kesler, Hodgkins Lymphoma Survivor

I've described being diagnosed with cancer similar to being on a rollercoaster at an amusement park.
When you're slowly climbing your way up the first set of tracks, and you hear the excitement of everything happening below you.
There's some chatter on your coaster car, but you don't recognize anyone or feel comfortable enough to ask, "are you scared as hell too?"
The  higher you get, the quieter it gets, and the further removed you feel from the excitement. That excitement doesn't stop, and you're stuck tight in this seat with what feels like no option to get off.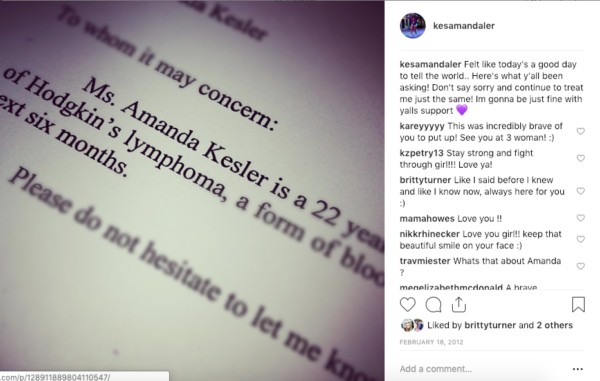 Being diagnosed with cancer at 22 years old is that exact moment.
The isolation that you feel punches you in your gut and leaves you feeling vulnerable and alone. I have always considered myself an outgoing and social person and I can hold a conversation about anything with almost anyone. If we've ever met or we're friends, you're probably laughing and thinking, yep – and she never shuts up.
But on January 25th 2012, cancer became the one thing that I didn't know how to talk about. Fortunately, my family and the close friends in my life at that time had never been directly impacted by cancer.
What a beautiful thing, right? I made it through 22 years of life without having to face another person's diagnosis. This made accepting and understanding my own diagnosis much more difficult to digest.
And I have to go on record to just say that I did have the most incredible caregivers, and a community that rallied around me! But I still constantly felt alone. Abandoned with thoughts that they couldn't understand. And I hoped that they never would have to.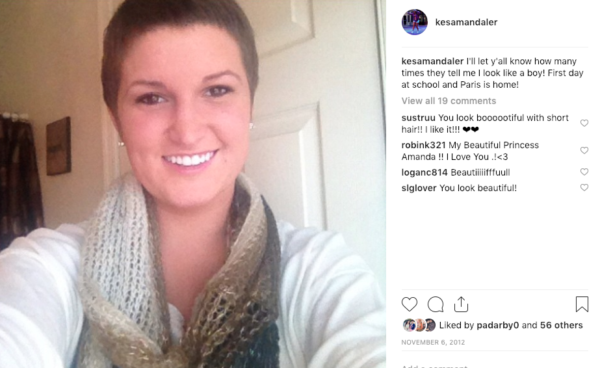 I knew I wasn't the only person that's been on this rollercoaster. I couldn't be the only young adult that felt this alone.
I remember using my Google search bar to look up medical terms, acronyms, or anything I needed to understand. And I used social media as a platform to search for a tribe – because more than anything, that is what I actually needed to fight.
I thought, there has to be other young adults, connected to a chemo pole, with their phone tucked in their palm, scrolling through Instagram and Facebook – double tapping and liking their way through what hopefully was another uneventful day at the hospital.
Social media quickly became a virtual support group for me. I searched through hashtags and looked for pages that I could relate to.
Without ever meeting any of these new friends in person, I felt like I was suddenly sitting in a room full of other hodgkins survivors from across the world – leading conversations and asking vulnerable questions that another survivor would respond "Yesss, girl. Same!"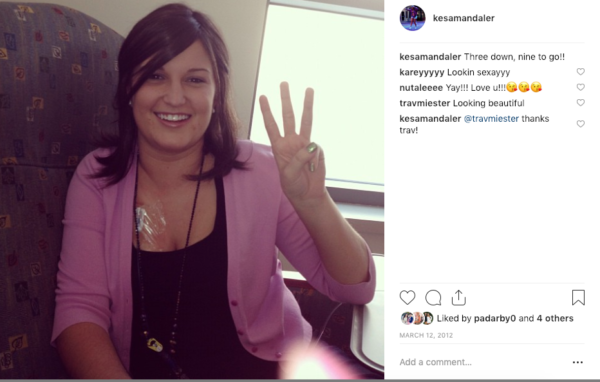 For the first time since my name became associated with this disease, I didn't feel alone.
I felt empowered by people that were out living their lives and embracing survivorship – taking trips with other survivors. I felt inspired by those that were documenting their hair loss and wore their new battle scars with pride.
I felt comforted and welcomed by people that used satire and humor to tell their stories because I quickly found myself shaping my own story similarly.
I found hope in what once felt like hopeless circumstances.
I longed to reach my last chemo, my eyebrows growing back, my first remission anniversary – all these events that I celebrated for my new friends in my new tribe – I couldn't wait to reach them.
More than ever, I couldn't wait for someone else to find me in their journey the way that I found so many of my new friends, and virtually hold their hand through their hardest days.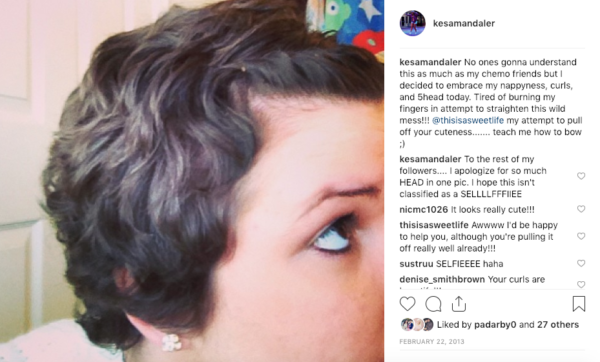 There's something beautiful about looking beside you and seeing someone else wear the same jersey that you're wearing.
Same college, same vacation spot, same fav. NBA team, same cancer – the commonality is a good feeling.
Hearing, "wow – so you get it?" when I get to connect with other survivors in the early stages of their diagnosis has been invaluable in my own journey. And social media has made those connections much more accessible.
I'm still apart of many private Facebook support groups – most that are specifically for AYAs and for hodgkin's survivors, and I still follow all the same Instagram friends that I found over six years ago.
Most of them have full heads of hair and fun new hairstyles, some have babies, are engaged, and they're all living through new adventures.
I still feel like I have a tribe that I can now introduce new cancer friends to. I first hand know the significance that social media and finding those people had in my life.
My journey would have been a lot different without them.
Amanda first met Ulman through our AYA Navigator at University of Maryland Medical Center. More recently she found support locally with Ulman's BOYAA.  Not long after getting involved, she joined Ulman Foundation as our Cancer to 5K coordinator. Since then, she's helped 257 survivors cross the finish line!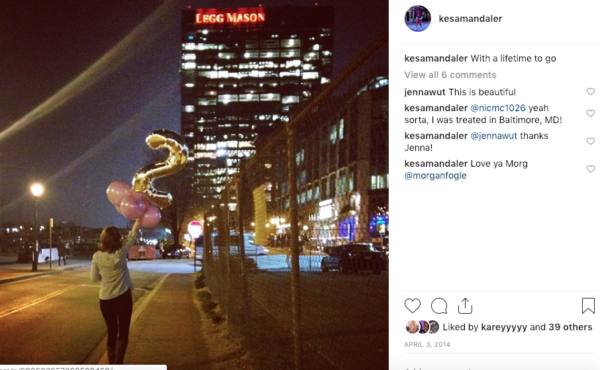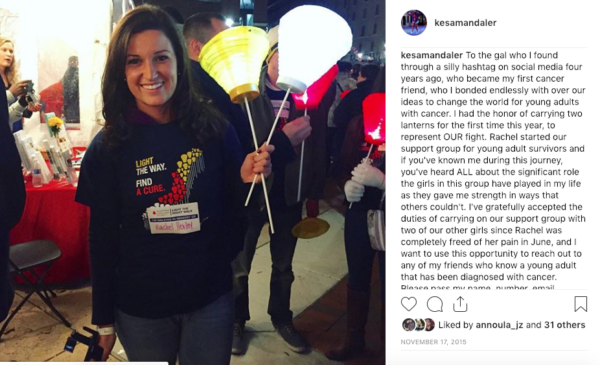 RELATED POSTS
Jen Anotelli
Never Doubt Yourself By: Matt Ode Stage 3 Testicular Cancer Survivor: Using my story of adversity to help you overcome life's most difficult challenges and discover your purpose in life.  March 17 – August 6, 2016: This journey all