From Teammates to Roommates
Aimee and Elizabeth's story
   
Elizabeth (left) and Aimee (right) met through Cancer to 5K Raleigh and
have been best friends ever since!
Ulman Foundation co-founder Diana Ulman's vision in the early days of the organization (which were also the early days of the internet!) was to create a network that would enable cancer survivors, caregivers, and patients to call upon others with similar experiences for wisdom and camaraderie. In our 23 years, we have expanded our services far beyond the creation of that network, and the modern information superhighway enables connections to be made nearly effortlessly. Still, the personal relationships that have formed from the now immeasurable network started in Ulman's first days arguably still provide the greatest impact of any of our programs. 
Joining the informal Ulman network in one way or another is a great step for any young adult to take when cancer has impacted their life. It can be as easy as liking Ulman's Facebook page, and can lead to additional steps toward acceptance and growth, to new friendships, and even to outcomes that could never be planned. The Raleigh, North Carolina-based roommates, teammates, and friends, Aimee and Elizabeth, shared their path with us. 
Elizabeth, now 24 and a non-Hodgkins lymphoma survivor, had trouble re-adjusting to college life when she returned to campus her junior year after her leave of absence for cancer treatment. The stressors and complaints of her friends and classmates became difficult to relate to after she had faced a life-threatening illness and grueling course of chemotherapy. She followed Ulman's Facebook page with hopes of finding people who could empathize with the hardships she'd endured, and who could also appreciate life in ways that most in her age group can't yet. When a new Cancer to 5K team in Raleigh was announced, Elizabeth registered, even though she was previously much more likely to have her nose in a book than her feet pounding the pavement! 
Aimee was living within a few miles of Elizabeth but being 10 years apart in age and in different professions, their paths hadn't crossed yet. About six years past her breast cancer bell ringing, Aimee was ready to re-invigorate her athletic side and embrace her body post-mastectomy, hysterectomy, and lung surgery. A long-time reader of Ulman's e-newsletters, Aimee was thrilled when she read that Cancer to 5K was coming to Raleigh in 2019! 

The two women met at their first practice in the fall of 2019, and while they were placed in different running groups based on their pace, they spent time together at after-practice brunches and dinners and became friends along with the rest of their tightly-knit team. The team's dynamic coaching duo of Jack and Zach kept up the camaraderie between seasons with group meals and runs, and even as the pandemic began, through virtual meetups. Aimee and Elizabeth would also see each other at online events hosted by Stupid Cancer – a fellow AYA cancer-focused organization. At an early-pandemic virtual meet-up in May of 2020, each woman shared a need: Elizabeth had finished college and needed a roommate, and Aimee – who lived alone – desperately needed company! 
The two signed a lease together and their friendship has flourished. As they settled into life as roommates, Elizabeth and Aimee naturally fell into distinct roles and have embraced supporting one another. Aimee keeps the apartment spic and span, makes sure clutter doesn't pile up, and does the dishes. Aimee recalls a time when her Cancer to 5K sherpa, Sanya, visited her old apartment and commented that her fridge contained only condiments, so she's happy to clean up, after Elizabeth cooks up meals much more nutritious and delicious than her old standby of cereal for dinner! 

The Raleigh Cancer to 5K team created safe ways to gather outdoors for their fall 2020 season, and both women participated again. This time, Elizabeth moved up to Aimee's faster pace group. Both improved their 5K times at the team's goal race, but more importantly, they continued to deepen their relationships with teammates, and relished the regular opportunity to see friends in person through the isolating pandemic. 
Aimee and Elizabeth also learned about Ulman's newest support program, the Ato Project, upon its launch this winter. Using art as a common language, participants express themselves and their cancer-related emotions. Having lost a Cancer to 5K teammate to the disease very recently, Elizabeth and Aimee focused a joint photo collage project on honoring their teammate's memory and appreciating their team. 
Aimee and Elizabeth have taken so many great steps, individually and together, as their survivorship evolves. Every day now, they walk or run at least one mile together, and we're sure their friendship will carry them through any steep climbs and bumps in the road they may encounter in the future.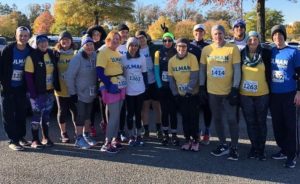 RELATED POSTS
Jen Anotelli
Ulman House: A Magnificent Lighthouse By Julia, Ulman House Resident The first time you hear those three spectacularly awful words, a thousand questions pop into your mind. The doctor says, "You have cancer," and suddenly the way forward