How You Can Help: A Call to Action
with Brock Yetso

Brock Yetso is the President & CEO of the Ulman Foundation.

He took a few moments to reflect on 2020 and answer the question that everybody has been asking.
"How can I help?"
Since the COVID-19 pandemic started its spread across America in March, I've received this question time and again from friends and Ulman Foundation supporters. 
I sense most people want to
do something
in times like these. By getting out and actively helping, we regain a small sense of control in the midst of this tumultuous year. I have wished I was in the position of our Patient Navigators or Ulman House team members – out helping clients face to face, instead of working from home. They've probably wished the opposite.
 🙃
We have been able to accept hands-on help from a few folks, but these opportunities are limited as we prioritize the safety and wellbeing of our immunocompromised community members. We can't wait until we can welcome volunteers to prepare meals at Ulman House, get back on the road running and riding across the country, and share laughs and cheers at our favorite events again!
For now, I wanted to let you know this: the best way you can help at this moment is by giving.
As you may know, the Ulman Foundation operates 100% from philanthropic support; we don't charge for any of our services. The pandemic has forced us to cancel in-person fundraising events and to bring our peer to peer experiences like 4K for Cancer and Key to Keys online, which has led to an anticipated budget shortfall of about 25% this year. We have benefitted from a Payroll Protection loan, cut expenses, and even came up with an innovative new initiative – MOVE Maryland – to help fill that gap, but we aren't quite there yet.
As we've been making major adjustments to how we raise money, and how much we can raise,
we have kept all of our programming going without interruption.
In fact, we gave more direct financial assistance than ever this year through small grants to patients struggling to get to appointments or bring home healthy food. 
Ulman House has hosted patients and caregivers throughout the pandemic and we are so glad to report that it has remained a COVID-free zone! As patients have often had to go to appointments and treatment alone, returning to the community there at the end of the day has been more important than ever.
Looking ahead, there is no doubt that our work needs to continue at the same level
. We have to keep showing up for people like Jess, who keeps crushing the odds of metastatic breast cancer and spent time practicing yoga with our Where YA Meet Annapolis crew. 
We need to be here for folks like Nicole who touchingly shared her story with our Board recently – grateful for the support she and her family have received through her Patient Navigator, volunteers who brought her family holiday cheer through Ulman's gift drive, and a partner organization that provided them with a 'bucket list' trip to Disney World! And we must continue to host young adults like Maria, Spencer, and Will, who built lasting friendships (and many Jenga towers!) as they resided at Ulman House for well over a year collectively and supported one another through remissions, clear scans, and sadly, some of Spencer's final days.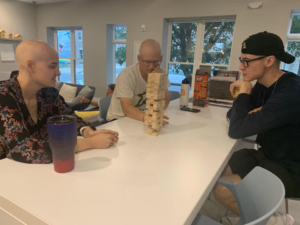 As the future remains uncertain, we must lean more heavily on the generosity of individuals – like you – to support our mission, and less on events that require people to gather in person. This is a shift that is difficult to make, but we believe it's the best – really, only – way to remain healthy as an organization and continue impacting lives in deep and meaningful ways. 
So, how can you help?
Please consider giving at a level that is meaningful for you and impactful for the young adults we serve as 2020 comes to a close. It's easy to give online –
click here to get started
. 
Thank you for all you have done to improve the lives of young people living with cancer. And thank you in advance for your continued support. To use our favorite hashtag of the year, #We'reUlmanThisTogether!
RELATED POSTS
Jen Anotelli
Ulman House: A Magnificent Lighthouse By Julia, Ulman House Resident The first time you hear those three spectacularly awful words, a thousand questions pop into your mind. The doctor says, "You have cancer," and suddenly the way forward