I THOUGHT I WAS INVINCIBLE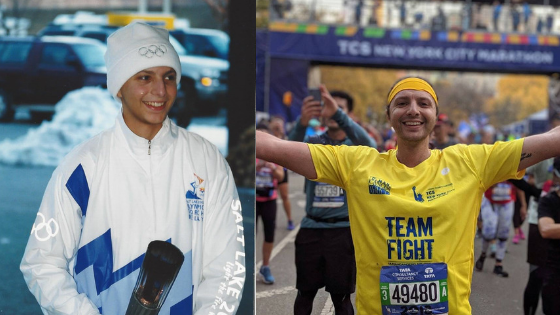 by Michael Tirone
Hodgkins Lymphoma Survivor
It's been nearly a month since crossing the NYC Marathon finish line in my Team Fight jersey and an arm covered with the names and photos of the most inspiring people to push me through all 26.2 miles. And each day since the race there comes an ephemeral moment where I tell myself with a proud smile, you finished a marathon and it consistently brightens my mood.
But how I got here, to the finish line of my proverbial — and literal — marathon, is an incredibly long and challenging journey, which I was once told I'd never be able to do accomplish.
That journey is what I thought about in detail while running through the crowded streets of the five Boroughs of New York City in the world's most sought-after race.
Why I Wanted to Run a Marathon
When I was 13 years old, I thought I was invincible. I was cocky, arrogant, and selfish. I was a three-sport athlete that was convinced I'd be playing one of those sports in college and maybe professionally one day. Being an athlete was what made up my persona; soccer jerseys, the newest basketball sneakers, the signature baseball stance, etc. Like many young teenagers, I had big dreams. But I had little regard for anyone else's dreams but my own. Then one April morning, the unthinkable happened to those dreams.
I sat in a softly lit examination room with my parents and my doctor as they told me I had cancer.
My entire body pulsated in fear, my stomach dropped to the floor and so did reality, like a hammer through the room. I knew very little about the disease, but my only thought was that I was going to die before all those dreams could come true.
My fight was long; one round of chemo, one round of radiation, pronounced cured after six months fighting, then a relapse with tumors filling more of my body, I began to truly realize how close to death I was.
More chemo that didn't work, changes in drugs, changes in hospitals and doctors and approaches. Finally, a stem-cell transplant, with the highest dosage of chemotherapy my body could handle.
I sat in countless hospital beds missing basketball practices, pitching lessons, soccer matches. Instead of living out my teenage years in high school, I was getting stabbed with IVs, undergoing surgery or recovering in bed from it all.
During my final chemo treatment, I hit rock bottom. I was a shell of my healthy, energetic self, having not eaten for 16 days and looking out my hospital window not knowing if I'd go outside ever again. My stem-cell transplant went successfully and I could go to home, but in complete isolation for 5 months. I became a bubble boy.
Just ten weeks after being limited to a hospital bed — nearly succumbing to my two-year battle during my third (and most intensive) chemotherapy treatment, I was given the rare opportunity to carry the historic Olympic torch on its way to Salt Lake City for the 2002 Games.
I was frail, weak, and had not been outside for several months. I was the thinnest and most out of shape of my life: a foreign feeling from my previous athletic childhood. Then my exercise consisted of short, quick steps to the bathroom to get sick and back to bed.
But my one-tenth of a mile stretch that I had to carry the torch was my first step to taking control over my body and my fitness while in recovery from the fight of (and for) my life.
Both sides of that frigidly cold, New Hampshire road were filled with family and friends to cheer me on. For the first time in my life, I felt what it's like to run for a crowd. I was jubilant seeing the flame illuminate my path of road filled with the people who loved and supported me through it all.
I high-stepped and fist-pumped with excitement and practically sprinted the entire length of the short .1 mile before my dad, who was jogging beside me, told me to slow down and let the moment soak in. By the end, I was out of breath from adrenaline and being very unfit.
My family, energized with excitement, met me at the end and dad told me, "you looked like you could run a marathon with how much energy you had!"
And in that moment, I felt like I could have.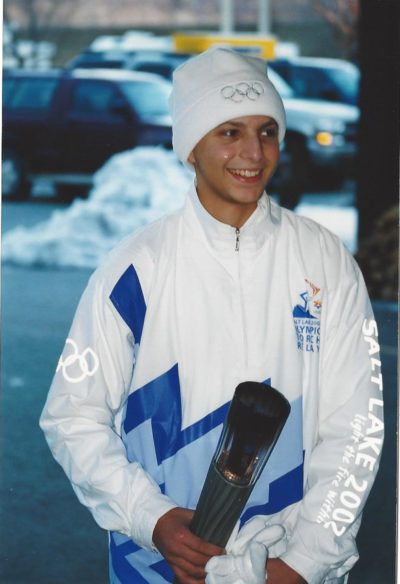 A New Reality, A New Dream
But like many cancer patients and survivors can relate to, you get used to being told what you cannot or should not do as a matter of precaution. Whether it is not eating 12 hours before surgery or not playing soccer with a catheter in your chest, it's never easy to be told a list of the prohibitive activities.
When I was getting close to a complete recovery, my oncologist told me a list of things I shouldn't — or couldn't — do as a survivor, most of which were due to the stress my heart had gone through with chemo and radiation. Things like no SCUBA diving, no heavy weight training, no high-altitude or long-endurance stress to the heart.
From that moment on, I made it my mission to prove the science, of which saved my life, that it was wrong and I was to run a marathon like my dad told me after carrying the Olympic torch. It would be the revised version of my childhood dream to cross the finish line of a marathon.
My life as a survivor has been one of intention, fueled by this second lease on life and my personal competition to defeat cancer from limiting me in any possible way.
All while helping others find that passion for seizing the power of life after cancer. I've volunteered with the Ulman Foundation since 2011 and have had life-changing experiences helping grow BOYAA (the Body of Young Adult Advisors), being a Survivor/Sherpa in Cancer to 5K, participating in the Key to Keys bike ride and being a member of the Board of Directors. All of which I'm incredibly proud of accomplishing.
But my personal mission was not truly complete, the dream not fulfilled, until I finished those 26.2 miles in New York City.
Race Day
The race was one of the most magical days of my life.
I soaked in every moment I could as I was in the process of fulfilling a near-lifelong dream, I wasn't going to forget a second of it. The energy of the crowd was positive and palpable. The weather was miraculously ideal for running as the days prior were rainy, windy and cold.
The course was as memorable as it was hyped up to be, filled with stunning vistas as I crossed over famous bridges and passed notable landmarks. The signature Manhattan skyline was a perfect distraction from the burning of my quads as I fought through the inclines.
During the difficult times, I went dug deep and got into the rhythm of perfect playlist or I repeated some of my personal mantras (many of which were on my arm band or are tattooed on my body), "keep fighting", "the breath is medicine" (from my friends at Bee Balanced Therapies), "mai pen rai" (a Thai phrase meaning 'it's all good') and "do it for those who cannot."
Fortunately, I fed off the crowds and sights for most of the run, so my mantras only were needed in those low moments during miles 17 and 23 because throughout the course, the life within the streets was electric.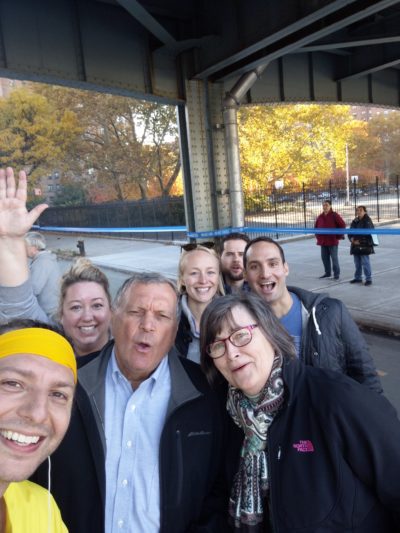 Each borough had their own vibe and flare.
Staten Island had nervous energy as runners anxiously prepared for battle on the Verrazano Bridge at the starting line.
Brooklyn had diversity, youthful vitality, funny signs, and packed narrow streets leading up to seeing my "Cheer Squad" of family and friends screaming their hearts out and ringing their cow bells at mile 11.
Queens had exciting turns, loud music and tall buildings before the renowned and daunting Queensboro Bridge into Manhattan.
The first stretch in Manhattan was thunderous but surprisingly challenging going up First Avenue for what felt like days.
Finally getting through Harlem and seeing my family and friends at mile 19 gave me life, inspiration and Advil just before crossing into The Bronx. The last borough was exhilarating as there were mini block parties with people dancing and cheering around every turn.
Once turning back into Manhattan making my way to Central Park, it was becoming real: the pain and exhaustion, but more importantly, the comprehension that I was actually going to finish.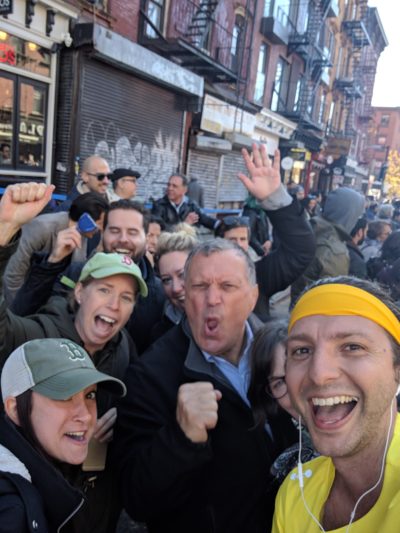 Seeing the beautiful smiles of the Ulman Team Fight gang at mile 24 cheering me on was the shot in the arm my tired body so desperately needed. I'll never forget the feeling of spotting the yellow Ulman logo and running towards them just before entering the final stretch through gorgeous Central Park.
While going through the park, I looked closely at my armband with the names and faces of people whose lives have been changed or taken by cancer. I felt an even greater responsibility to make them proud and finish the race strong for every one of them.
Their stories are even more deserving to be told than mine and I hope by having them with me on my race they will be shared with others.
Crossing the finish was surreal. I am unsure if I'll ever be able to accurately describe the overwhelming feelings of joy, pain, complete satisfaction, utter exhaustion and countless other emotions all reaching their climatic peak in that very instant.
But similar to carrying the torch 17 years prior, once completing the marathon I knew I had just achieved something truly meaningful and incomparable. I might not have become the professional athlete I dreamt of as a kid, but I believe this dream was exceptionally more fulfilling.
"Thanks" does not do justice to convey my gratefulness to the remarkable people who have supported me along the way; the doctors, nurses, surgeons, teachers, classmates, teammates, roommates, family, friends, and the donors. Without each of them I would not be here today nor be able to transform from a cancer patient to a thriving marathon-completing survivor.
And to the Ulman Foundation, I am forever beholden for granting me the opportunity to help changes lives of others while in turn changing my life, allowing me to fulfill a dream and to share it with others.
I know firsthand that receiving support to get healthy, get moving, and get in control of your life is vital to recovery, remission and survival and for that I am beyond appreciative.