Iron Girl Columbia Triathlon to Host First Disabled Woman Triathlete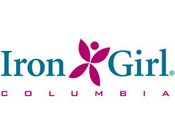 On Sunday, August 16, 2015 approximately 1800 women, ranging in age from 13 to 80, will participate in the 10
th
Annual Iron Girl Columbia Triathlon.
A
mong those women will be Columbia, Maryland's very own Defu Fekadu, the first disabled woman triathlete to participate in this race.
A Columbia, Maryland staple and an introductory triathlon for many women in the area, the Iron Girl Columbia Triathlon is an inspiring women's event on many levels, but getting a glimpse of Defu and her team at this year's race is sure to be the most inspiring sight to see.
Defu will be supported by a team of women from Athletes Serving Athletes, a non-profit organization that empowers athletes living with disabilities to train and compete in mainstream running and triathlon events.
Athletes Serving Athletes (ASA) provides the assistance of able-bodied volunteers termed "Wingmen" and Defu will not only be the first disabled woman to participate in this event, but ASA will also provide for the first time, a complete team of women "Wingmen" to support her along the way.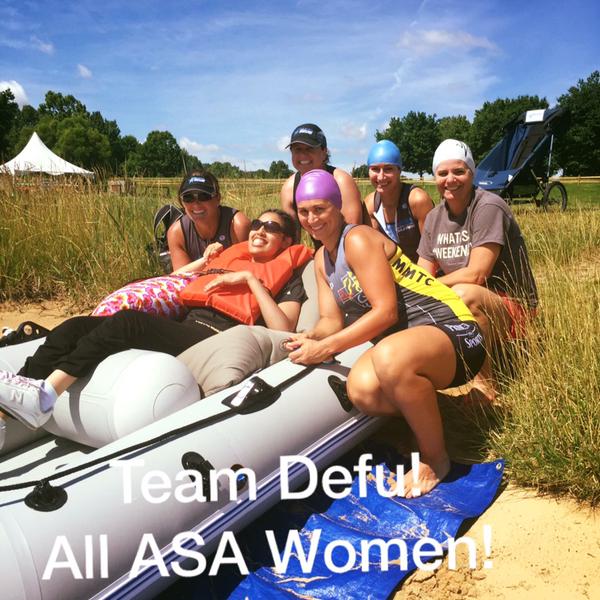 The team consists of swimmer, Aleah Zinalabedini; biker, Melinda Peters and runner, Kerry Blackmer who will all work together with the help of their team leader, Jennifer Roussillon to assist Defu across the Iron Girl finish line.
When asked about Defu and the experience so far, the ASA Wingmen each have an empowering and inspiring story of their own to share.
Melinda Peters, biker wingman, said:
"Defu told me that ASA has given her a voice. I think she is brave, not only for competing in this race but for constantly motivating and teaching others that they too can do anything they put their mind to."
Aleah Zinalabedini, swimmer wingman, commented,
"I'm truly honored that Defu and ASA are giving me the opportunity to swim with her in this year's Iron Girl. I am consistently inspired by her beautiful smile, incredible outlook on life and ability to work through her fears with grace."
Kerry Blackmer, runner wingman, said,
"I'll never forget the first time I met Defu. I'm not sure that I realized then the profound impact Athletes Serving Athletes and Defu would have on my life."
It is easy to get caught up in medals, times, awards and personal records in a race like the Iron Girl Columbia Triathlon. Team Defu stands as a reminder that this race means so much more than that.
This race, and anything like it that is a true test of physical strength and mental endurance, is about empowerment and finding the courage to do something that might seem impossible.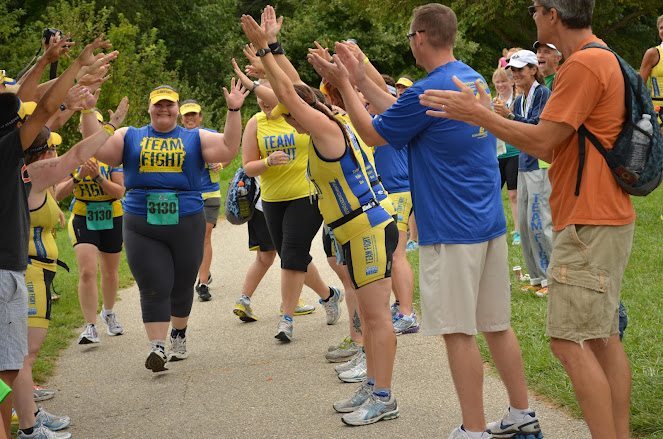 Jennifer Roussillon, team leader, says,
"Just like any athlete, Defu, has been training for Iron Girl. She has gone outside of her comfort zone and continues to push forward. Simply put, Defu is the epitome of what it means to be an Iron Girl, and I am honored and humbled to be on this journey with her."
The 10 Year Anniversary of the Iron Girl Columbia Triathlon will take place on Sunday, August 16, 2015 in and around Centennial Park in Columbia, Maryland.
The race will start with the swim portion at approximately 6:50 a.m. and continue through the late morning.
For more details on the event and to view results after the event, visit
www.ulmanfoundation.org/ucfraces/
.
About the Ulman Cancer Fund for Young Adults & UCF Races
The Ulman Cancer Fund for Young Adults (
ulmanfoundation.org
) is a non-profit, 501(c)(3) organization that changes lives by creating a community of support for young adults and their loved ones impacted by cancer. Founded in 1997, the Ulman Cancer Fund for Young Adults works at both the local and national level to ensure that all young adults impacted by cancer have a voice and the necessary resources to thrive.
UCF Races was established in 2010 to further the mission of the Ulman Cancer Fund for Young Adults. UCF Races produces first class endurance events that enrich the community, celebrate the achievements of every participant and ultimately spread awareness of the young adult cancer fight.
About Athletes Serving Athletes
Athletes Serving Athletes (ASA) is a non-profit organization located in Maryland that empowers athletes living with disabilities to train and compete in mainstream running and triathlon events. Most ASA athletes have very limited to no mobility and compete with the assistance of able-bodied volunteers termed "Wingmen" (men and women, young and old, fast and slow). ASA offers innovative athletic training, supportive mentor relationships, and high quality endurance events for athletes living with disabilities – all of which are free of charge to the individuals and families served. To support or learn more about ASA please visit: www.athletesservingathletes.org
RELATED POSTS
Jen Anotelli
Ulman House: A Magnificent Lighthouse By Julia, Ulman House Resident The first time you hear those three spectacularly awful words, a thousand questions pop into your mind. The doctor says, "You have cancer," and suddenly the way forward