Josh Minton thought he was invincible.
A 27-year-old Army Captain in peak physical condition, Josh had already been through what he thought would be the biggest challenges of his life – four years at West Point and a tour of duty in Afghanistan as a Field Artillery Officer – and he survived both with aplomb.
Engaged to be married, with a clear path forward in the Army, Josh planned confidently for his future.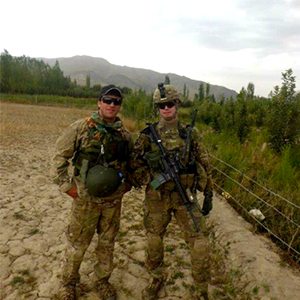 While training at Fort Still in Oklahoma, Josh got checked out for what he thought must be a kidney stone.
To his great surprise, he instead received a diagnosis of an incurable form of neuroendocrine cancer.
He shipped off to Walter Reed National Military Medical Center, leaving behind his comrades and far from his roots in Ohio.
He withdrew from the world and separated from his fiancée, in denial about his new reality.
Over the next six months of chemo and self-imposed isolation, Josh processed his situation and little by little began to shift his perspective.
He learned about the young adult support group at Walter Reed, run by UCF Patient Navigator Meg Fitzgibbons, and decided to give it a try.
He found the group to be dynamic and flexible, and enjoyed sharing awkward moments of hilarity as well as poignant and sad reflections with his new peers.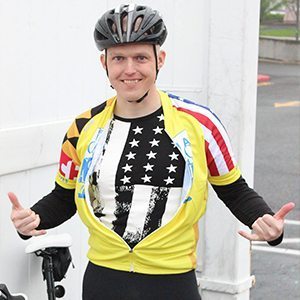 Josh now reflects that the emotional challenge he continues to face is harder than any physical or tactical task he has encountered.
Getting support from people at UCF and Walter Reed who could truly empathize with him, Josh – ever stubborn – rallied and decided to give support to others.
He has shepherded fellow officers and enlisted through their cancer experiences, developing relationships he knew would end in heartbreak, but having the courage to do it anyway.
He has completed physical feats – a half marathon, a60-mile walk, and UCF's Key to Keys – to keep perspective, focus on the positive, and honor those who have gone before him.
He has taught high school students how to be there for their friends who have cancer or chronic illnesses, and addressed elected officials at a Cancer Moonshot summit.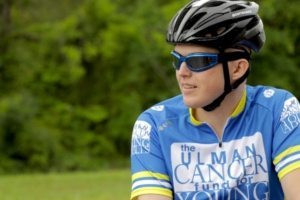 His body may not be invincible, but his spirit surely is.
Josh, we salute you!
RELATED POSTS
Jen Anotelli
Ulman House: A Magnificent Lighthouse By Julia, Ulman House Resident The first time you hear those three spectacularly awful words, a thousand questions pop into your mind. The doctor says, "You have cancer," and suddenly the way forward