With a multitude of events going virtual due to COVID, Ulman's Key to Keys program was no exception. However, in true Ulman fashion, each participant adapted to the change with enthusiasm and commitment. Together, the riders have raised over $96,000 and many exceeded 200 miles over the course of one week.

While they may not have been able to physically tackle the traditional route from Key Highway in Baltimore to Key West, Florida, the team was still able to gather on Facebook for their morning Dedication Circles to dedicate their miles to loved ones impacted by cancer, and to meet up locally for socially distanced rides. The week culminated with a long mileage day on Maryland's Eastern Shore, where 8 riders completed a 50 mile ride and 4 support drivers kept them fed, hydrated, and motivated! 

More than half of the K2K team members exceeded their fundraising goals, with top fundraiser Stu Mills raising $11,750, followed by Rick Urbansksi raising $9,536.46. Both Mills and Urbanski are cancer survivors who dedicated their K2K experience to loved ones, while providing hope and support to those facing a cancer diagnosis. Other top fundraising participants include Rick Erline, Dean Smith, and Trevor Garner, each of whom raised more than $7,000 to keep Ulman's services going strong. 

Participant Russell Brehm put a spin on the virtual K2K experience, by gathering his community of biker – not cyclist – friends and riding his motorcycle from Baltimore to Key West in honor of his late brother and K2K Alum Pete Brehm.

At Pete's K2K arrival in 2019, Russell told Pete he would be participating in 2020. Pete responded by laughing and saying, "the only way you would get to the Keys is on your motorcycle." Pete was right, as Russell made it to the Keys and back in 7 days,  saluted his brother at the Southernmost Point of Florida and yelled "We made it Papa Pete!"

Thank you to each and every one of our 2020 Key to Keys riders and drivers. Each dollar raised and every mile cycled is a step closer to a world in which no young adult faces cancer alone.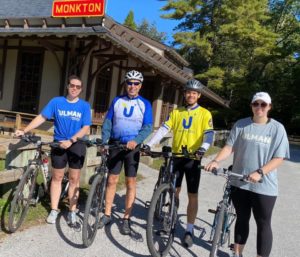 RELATED POSTS
Jen Anotelli
Ulman House: A Magnificent Lighthouse By Julia, Ulman House Resident The first time you hear those three spectacularly awful words, a thousand questions pop into your mind. The doctor says, "You have cancer," and suddenly the way forward