Legislation will save patients and families millions of dollars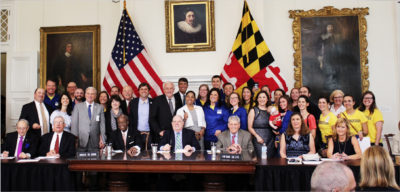 "Good morning. I'm ever grateful to the Ulman Foundation for their leadership, dedication, and raising the consciousness on this and so many other aspects those patients and families face throughout their lifelong battle with cancer—I am most honored and willing to always be part of this great team and purpose."

– Senator Jim Mathias (SB271 Sponsor)
Dear Community,
I'm excited and humbled to share that SB271 was voted out of the General Assembly yesterday and is headed to the Governor for signature into law!!!!
WE DID IT!
We should all be very proud of this accomplishment and take great pride that come January 1, 2019, thousands of young patients in Maryland for many years to come will be able to preserve their fertility and have the opportunity to experience parenthood after cancer without facing significant financial hardship.
This legislation will save patients and families Millions of dollars and create generations of families that might have not otherwise been possible.
Thank you all for being a part of this important work and accomplishment.
Passing this legislation is the result of the important work Ulman has done across all parts of our mission and the relationships we've built within our community of support!
Well done team!
Brock Yetso
President & CEO
The Ulman Cancer Fund for Young Adults
RELATED POSTS
Jen Anotelli
Ulman House: A Magnificent Lighthouse By Julia, Ulman House Resident The first time you hear those three spectacularly awful words, a thousand questions pop into your mind. The doctor says, "You have cancer," and suddenly the way forward