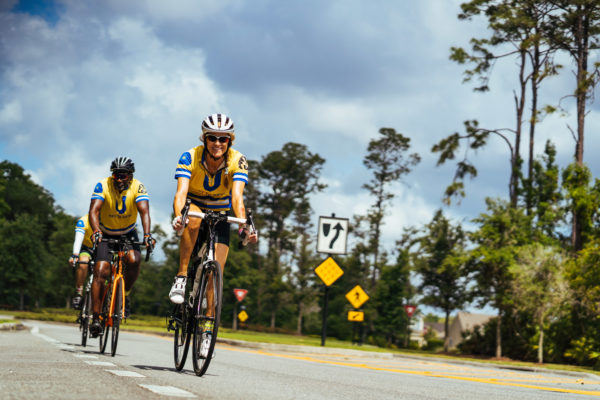 Meet Christina Bieberich – an Ulman Board Member, Key to Keys 2018 alumna, and Clinical Specialist at Genentech, Inc.
What is your connection to the cancer community? Why did you first get involved with Ulman?
My biggest connection is my Grandmother passed away with ovarian cancer. I've always had that connection with my family. One my friends an oncology nurse introduced me to Ulman at the Blue Jeans Ball, and that was first exposure to Ulman and getting to know the people.
Tell me about some of the people you've met while working with Ulman.
The person that motivates me the most is Josh Minton. I met him at Blue Jeans, and he had done Key to Keys the previous year. Then he was on our ride, just to see him and his whole journey, what he's going through, and how he talks about being a young adult with cancer, that has been my biggest connection.
But also all the people, the Key to Keys team became a second family. I felt this intense connection with this wonderful group of people, especially those who had lost someone or were survivors, it all kind of just opened my eyes to a bit more about the cancer community.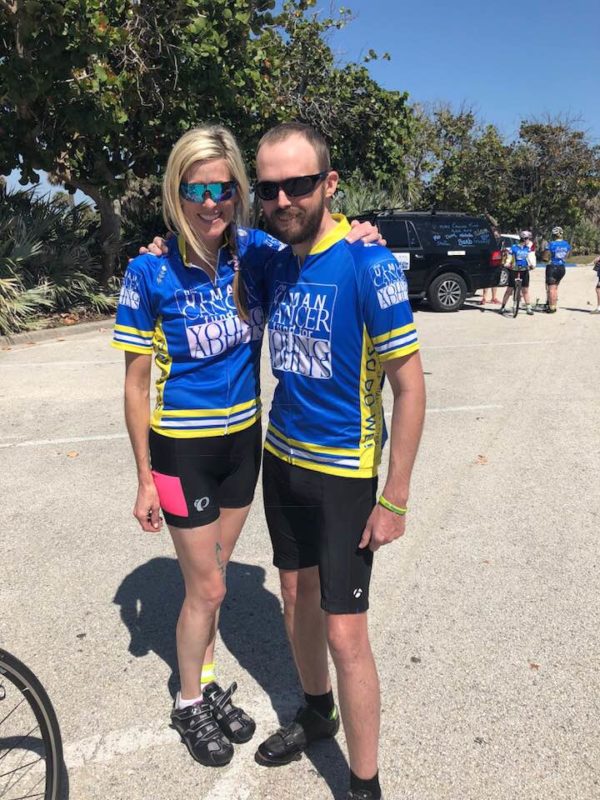 Christi with Josh Minton on the 2018 Key to Keys ride.
What led you to your current job?
I work for Genentech, which is a bio-oncology company. I went to University of Maryland and focused in Marketing. I've always had a business focus, and had marketing as my long-term career goal. But I started doing a preceptorship in the medical world, and worked for top pharma bio-tech companies.
I switched into oncology about 5 years ago. The field is tough to get into.  It's known as a unique place, and the knowledge base is very technical. I never really had it as an end goal. I found oncology and I will never leave it. Once you've been in this environment, the stories and the passion, it's one of those things that every day I learn something new.
Everyday you learn something new for cancer treatment. Our company is very high science, focused on finding cures and the next best treatment. I love it.
What surprised you the most about being a part of the Ulman community?
The spirit – the positive spirit of everyone.  Even though cancer sucks, it's a hard topic. It's made out to be something that's totally different, that makes people feel ok about it, and provides a lot of hope.
Which Ulman value resonates the most with you?
Be Courageous, it speaks to a lot of different things. For all people involved. Be courageous as cancer patients, for their medical team to make really good decisions. For their caregivers, be courageous to support them on whatever level they need.
And as an organization for Ulman to be courageous to take on big initiatives. I think of the team and Brock who advocated for the fertility preservation in Maryland. Personally for me, I'm a non-athlete. It [Key to Keys] made me so courageous, I cycle now! I'm so courageous now about what I'm capable of.
Sweet potato fries or regular fries?
Sweet potato fries (dipped in ranch).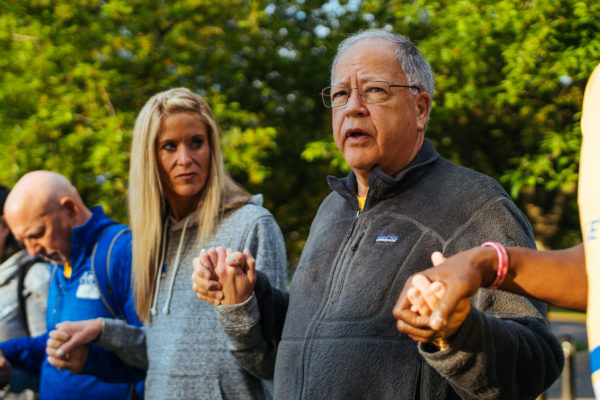 RELATED POSTS
Jen Anotelli
Never Doubt Yourself By: Matt Ode Stage 3 Testicular Cancer Survivor: Using my story of adversity to help you overcome life's most difficult challenges and discover your purpose in life.  March 17 – August 6, 2016: This journey all