Finding New Ways to Give
A Yellow Door Corps Spotlight

Meet Meghan Rodgers, volunteer leader of the National Collegiate Cancer Foundation, Chief Marketing Officer of Strayer University's Jack Welch Management Institute, Ulman Foundation Board Member, and Yellow Door Corps member!
Meghan

's connection with Ulman runs deep. Meg and her late fiance, Dan Waeger, met Doug Ulman and Brock Yetso through the Livestrong Young Adult Alliance – one of the first formal collaborations among organizations supporting young adult cancer patients – soon after Dan created the National Collegiate Cancer Foundation in 2005 as a response to his cancer diagnosis at age 22.  Living in Bethesda, Dan was able to stay in touch with the Ulman crew and be part of the community until, after four years of living with his "will win" attitude, Dan succumbed to cancer.
Meghan

soon took over at NCCF, and with big shoes to fill, she reached out to Ulman for a little advice on operating a non-profit. She found encouragement, a trusted sounding board, and a safe space to be around other young adults dealing with similar emotional and practical challenges.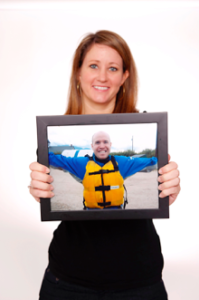 Completing the Columbia Triathlon – her first! – with Ulman's Team Fight just a few months after Dan passed away, was a meaningful and memorable accomplishment.
Now an accomplished professional and continued AYA advocate, Meg is ready to give back in new ways. She appreciates Ulman House in a way only those who have spent many long days in waiting rooms and nights in lonely hotel rooms, caring for a loved one, can. She is excited to help others at Ulman through philanthropy, hands-on service, and lending her empathic ear. Her words of wisdom for Ulman House residents and all AYA cancer patients:
Keep putting one foot in front of the other! Take it one
day at a time, and you'll surprise yourself with how resilient you are.
Meg, Dan's sister Patrice, and other family members and friends will prepare dinner at Ulman House on March 16 – the 11th anniversary of Dan's passing, and the birthdate of Meg's best friend's mother who passed away recently having lived for years as a cancer survivor. Residents can look forward to a menu that is still to be determined, but will definitely include items that go well with ketchup – Dan put it on everything!
Learn more about Yellow Door Corps and how to become a member here.
RELATED POSTS
Jen Anotelli
Ulman House: A Magnificent Lighthouse By Julia, Ulman House Resident The first time you hear those three spectacularly awful words, a thousand questions pop into your mind. The doctor says, "You have cancer," and suddenly the way forward