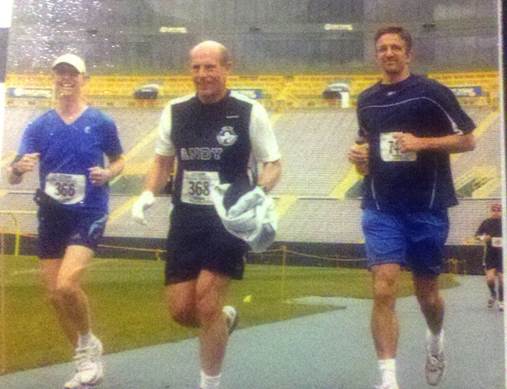 Andy Steinfeld is a Road Runners Association of America (RRCA) certified coach and avid runner. His list of endurance event accomplishments include 27 marathons, six ultra marathons and an IronMan. Andy has worked with numerous running clubs and charitable organizations in their endurance event programs, including serving as the co-director of the First Time Marathon (FTM) program with the Montgomery County Road Runner Club (MCRRC) from 2007-2011. He received the coach of the year award from MCRRC for his work with FTM in 2010. This spring Andy became a sherpa and coach for the Cancer to 5K Montgomery County team. He is extremely passionate about the combination of coaching people with cancer-related health obstacles who want to achieve running goals.  His running partner for the past 11 years has neuroendocrine tumors (net) and the two have run nine marathons together.
On May 19th 2008 , I ran the Green Bay marathon with my running partner Jan and our friend Vince. Vince is a friend of Jan's husband Jim from way back.
This one was going to be Jan's first marathon since her pancreas removal surgery in January so looking for any positives , we realized the removal of the organ would make her lighter on her feet and a favorite in the female non pancreas division.
We all met in the hotel conference room Sunday morning for breakfast. Jan was debating if she should get something else to eat, I said yes, if in doubt eat and the higher the sugar level the better.
Maybe it was being in Green Bay, getting ready to head to
Lambeau Field
, Vince Lombardi….  That inspired me to give Vince a pep talk. 
As Jan was finding something to eat, I looked at Vince and said We have no chance.  His momentary pause and response of What! Made me think wrong speech.
I
explained that we can't even make it through a 4 mile run,  how can we make it through 26.2. He said really, I repeated we have no chance. However, I would never bet against her so there was still a part of me that thought it was possible, hence the miracle word in the subject line.
We went to the atrium at the stadium and hung out. The normal routine. Bathroom line, stay warm and then head to start. Women much more efficient in bathroom then men. 
Vince did his best Diana Ross routine by changing running outfit 3 times those last 10 minutes. That last one was almost costly as he headed to car and headed right back to atrium but we couldn't find him.  
As we were waiting for him to come back Jan and I noticed 2 young women, shorts, jog bras, long flowing hair, bopping towards the door, heading to the start.
I looked at Jan in old gray sweatshirt, arms crossed trying to keep warm, oh yeah my confidence was at an all time high. Between Vince not being able to figure out what to wear and Jan looking outside like it was Mount Everest, things weren't looking good.
Finally with 5 minutes to go before the start, Jan and I headed for the start.   We were near the back of the pack when we finally saw Vince, luckily the sun came out, reflection from my head worked as a flare for Vince to find us.
The gun went off and off we went.  Nice and slow was the plan. We had the continuous monitoring system so between that and 10 packs of Sport Beans, plenty of water stops we were set.  
At the start sugar level was at 200 and every half hour she was going to have a pack of beans. I made a contact on the web who told me about this device but more importantly told me that sport beans was his preference for fuel replenishment and how much he took.  This really help Jan who normally takes in minimal fluids.
I looked at Jan and knew the look well enough that at mile 1 then 2 that she had that oh shit, how's this going to work. 
At around mile 7 there were a group of people holding up a sign that said, Chuck Norris wouldn't quit, I went over to talk with them and one women said can we have some high fives,  I said, you can have whatever you want. Boy, I hate people that can't handle their endorphins.
At mile 10 Jan found her groove,  again groove is a relative term but we had a flow going.  Vince and I kept chatting, Jan kept running.
Sugar level still in the 160-170 range and no alarms from the unit, sports beans every ½ hour,  gatorade at every water stop. Things looking up.
Things continued like that for a bit and there was no temptation to go left with the half marathoners when the moment of no return came upon us. 
Why make a left and finish when you can make a right into an industrial park with no spectators, and sparse amount of runners and 16 miles to go. But it was 26.2 miles or die trying,  a bit worried about the literal translation of that but always fun when the stakes are higher.
At mile 17 we loop around and under a bridge.  I look up and see someone who looks very familiar.  After a few seconds, she says Andy, she was from the first time marathon program, which is funny because this was her 40th marathon.  She said what are you doing back here, Poor Jan, she explained to Vince here we go again, Andy has to explain why he's back here running with a loser.  
I told Karen, my friend has cancer and she just had her pancreas removed Monday, whoops, I mean January. I think she was more impressed when she thought it was removed Monday. 
Anyway, it was great to see a familiar face and she and her friend were at the finish waiting for us and cheered loudly for us. Karen hugged Jan, congratulated her, it was very supportive as all runners tend to be.  Ironically Jan encouraged Karen's friend earlier and recognized her at the finish.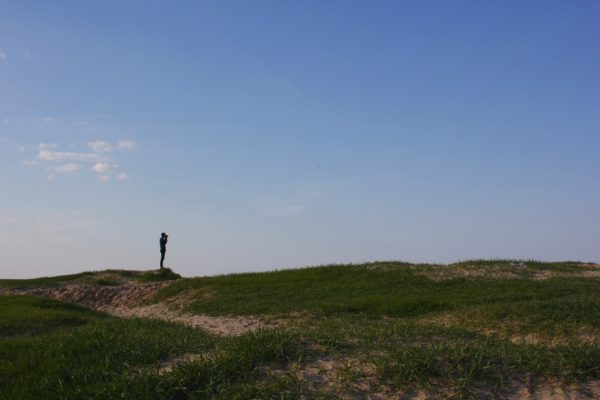 About mile 18 sugar began dropping,   Jan mentioned levels going down, I suggested a less dramatic, oh they're decreasing maybe we should do something.  
How valuable has this monitoring system become. She drank OJ, another packet of jelly beans but our best range was now in the 115-125 and we just needed to maintain it there.  The wall was coming if not already here.
But at that moment we saw Vince's family coming down the trail, and nothing is more exciting than seeing one family.
We had seen them earlier but this time the timing and boost was great.  A couple a miles later we saw them at mile 20, and I got revenge I have been seeking for 5 years!
Vince's family was there also, waiting for us.   Jan was talking with Sue and the boys and I barged in and said, enough of this chit chat we're here to Finish a marathon. I think Sue was a bit thrown by this tough love approach.
Back in 2003, at mile 23 at the NYC marathon I was so done, my wife gave me a nice hug, I didn't want to finish. Jan yelled, enough lets go already. She was right but I was going to have my payback and this was it!!!
The final 6.2 and this was going to be tough.
I suggested we switch to a run walk and I'll let you know when we should run and then walk.   She said ok. This really concerned me. In most cases that would be comforting when someone agrees to being told what to do, with Jan NOT COMFORTING.
But it worked out and then the most amazing rootbeer I ever tasted was at a water stop.  Jan and I split one and then we continued on. Sugar levels still in the 115-120 level. The last 2-3 miles I felt like I was part of an Indy 500 pit crew.  When they have 10 laps to go and don't know if there is enough fuel in the tank. In this case, I was thinking will the sugar levels bottom out before we get to the finish. 
I handed her one last pack of Jelly Beans knowing it would last the 20 minutes we had left in the race. Told he just get this down and no more Gatorade. She agreed.
As tough as the last few miles were, it was the most rewarding and fun.   At that pace you know people are here for the fun of it. I saw one girl asking someone if there was a restroom at a shop , I yelled its going to hurt your time, and her friend said better then having her poop on her leg. 
Can't argue with that. The two of them caught up to us and she made a point of letting me know it didn't hurt their time in a joking way.
Lambeau Field –  There it was and we were about to run through the players tunnel  and as we got to the field We are the Champions was playing on the loud speaker.  As we made our loop around the field, I had such goose bumps.
I couldn't imagine how it would feel to enter the field with 60,000 people screaming, it was unbelievable even with the few spectators on the bleachers.   Later on Sue pointed out that they were much more crowded earlier. I wasn't the only one with motivation speech issues.
We crossed the finish and mission was accomplished. Was it a miracle, a bit dramatic, but if you saw how the 3 of us worked together as a team,  you wouldn't of been surprised that we got it done.
Another marathon in the books, another unique story.
As Jan and I headed to our plane,  I decided to carry her bag as I knew how tired she was. She said, you know I can carry my own bag and I said but you just ran a hard marathon. She said, "You did too." 
I responded, "But I'm a trained athlete" and she finished the sentence "Oh yeah, I'm the loser runner" and this allowed me to put my finger up towards her face with the Big L.
We both know that the truth is somewhere between these 2 extremes.  I think that's been our secret to being a good running team, not get caught up in the inspiration of the accomplishment but to be able to laugh about the circumstances and just run because we love it.
Although the cancer topic is always there, maybe not spoken, but  its there. A run where there is no worry about cancer, now that's a miracle.
RELATED POSTS
Jen Anotelli
Ulman House: A Magnificent Lighthouse By Julia, Ulman House Resident The first time you hear those three spectacularly awful words, a thousand questions pop into your mind. The doctor says, "You have cancer," and suddenly the way forward