Mom: Toughest Job on the Planet
"I always say that I was the one with cancer but my mom fought it for me harder than anyone." 

– Sylvia Donovan

"Having the support of my children during my journey was very important…At the time they didn't realize it, but they were the best medicine for fighting cancer." 

– Julie Lanahan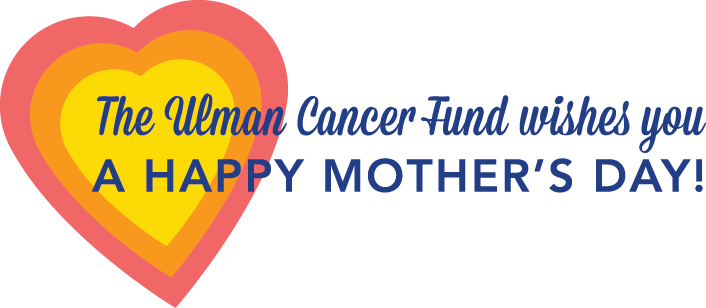 Being a mom is the toughest job on the planet, hands down. But being a mom when your child, or yourself, is undergoing cancer treatment is unfathomable.
Sylvia Donovan (SD) is a breast cancer survivor and mother of three. Julie Lanahan (JL) is also a breast cancer survivor and mother of four.
For mother's day both of them have agreed to share a little of their stories, their relationships with their families during their journeys and advice to other mothers undergoing treatment.
SD: "When I fought cancer in 2004 at the age of twenty-three I couldn't imagine anything being harder.  I got through months of chemo with my amazing parents at my side every step of the way. I always say that I was the one with cancer but my mom fought it for me harder than anyone.
Ten years and three kids later I am in awe of what my life has become.  I am so thankful everyday for the things I learned from my mom: how to care and be selfless for my kids, how to show love and compassion for everyone around me, and to use my experience for good and bless others."
JL: "When I was diagnosed with breast cancer, my world as a mother was completely upended. Here I was the stay-at-home mom who was room parent, gave tours of the school's campus, volunteered on multiple committees, helped in the classroom and went on field trips.
Suddenly, I felt like a mother hen who was having all of her feathers plucked one by one as I had to let go of my volunteer activities at school so that I could fight for MY life.
All I had ever know was how to fight for the lives of my children. I would do anything for them. I really struggled to put my own needs first. I would cry every night about having to give up so many things that had been in my life for so long.
I cried about the school activities, not being a room parent, having to give up breastfeeding, and yes, even my daily housekeeping duties. And then I had a wonderful conversation with a fellow breast cancer survivor I had been connected with who also had young children when she was diagnosed…Sarah Leming.
She explained to me that as mothers we somehow juggle many many balls in the air on a daily basis. And at the end of the day we reflect on our day and somehow all of those things got done.
What I needed to do was to take all of those activities and put them into either a glass ball or a plastic ball.
The plastic balls would include the many school volunteer activities, room parent, laundry, cooking, cleaning, carpool, and breastfeeding. The glass balls would include my health, my marriage, and my children.
Right now she said I needed to drop all of the plastic balls to the ground and focus on the glass balls. The plastic balls can be dropped and they will just bounce around until I decide, if I ever decide, to pick them back up, with the exception of the breastfeeding of course. The glass balls needed my undivided attention in order to stay afloat.
This was an "AH HA" moment for me. Why had I not been living my life like this before I was diagnosed with cancer?
I have termed this the "Leming Effect". After this conversation with Sarah I realized that I was going to do as much as I could for my children while I was going through treatment. If I felt up to going to a lacrosse game then I was going.
But I had decided that the few times I was feeling good, I was going to spend it with my children doing our "normal" family activities: playing with the dog, dancing around the house, going to the pool, and going for a family run around the neighborhood."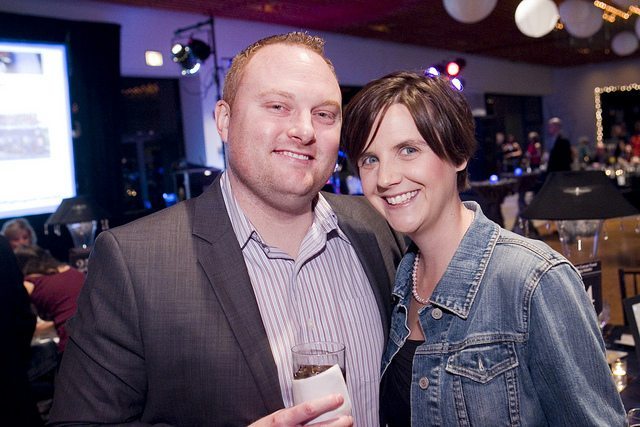 Sylvia & her husband at Blue Jeans Ball
SD:  "My mom died in 2006 and being a mom without her is much harder than cancer.  My whole cancer journey provided time with her and my dad and brother (they also passed away at the same time in a car accident) and I wouldn't trade that for the world."
JL: "Having the support of my children during my journey was very important. In the beginning everyone wanted to take the kids from me to help me out. While initially that was what I needed in order to focus I soon realized that I needed to have the kids by my side.
When they were away from me I would fall to pieces, but having them around was a constant reminder of why I was fighting so hard for my life.
I wanted to see them graduate, get married, and have children so I was going to do whatever I had to do to get me through my treatment. They were my inspiration.
At the time, they didn't realize it, but they were the best medicine for fighting cancer.
I often joke that if you don't have children and have to face a cancer diagnosis you should borrow someone's children.
Children provide fun, laughter and are fairly self-centered. So they provide plenty of laughter and keep you from being too focused on the cancer because they want you to be focused on them."
Julie, her children & nurses
Advice for mother's while they undergo cancer:
Be honest with what is going on with your health. Kids are pretty intelligent and will see right through sugar coated explanations.
Give them information in small doses and only what they ask about. I told my kids in stages over a few weeks. First I explained the surgery. Then before chemotherapy we talked about what chemo was and effects it may have on me. When it was time for radiation, we talked about that type of treatment.
Role play conversations your children may have with their friends about "Why doesn't your mom have hair?" This was very beneficial and actually came into play. Brady explained to his classmates without a hitch.
Take pictures during your treatments. I took pictures with all of my nurses so that my children could put a face with a name when I talked about them. After a year of treatments the nurses became part of my family.
If you have radiation treatments, ask your doctor if you can bring your children for a tour of the facility. My children came to one of my treatments and got a tour of my treatment room. It helped make a very abstract concept very concrete.
When my hair was falling out, I let me kids have fun with it. They would have contests to see who could pull out the most hair. It added a bit of fun to a very devastating experience for me.
Don't be afraid to ask for help, and include the kids as much as it is appropriate.  Let them know that they are safe, loved, and nothing could ever take that away, not even cancer.
Always remember, even without hair and feeling your worst at times, your children will always adore and love you and will always lift your spirits with a simple smile and hug!
We send our best wishes to all the moms near and dear to us. If you haven't already, take a moment today to let those special moms know what great jobs they do everyday.  Cancer Changes Lives…So Do We!
RELATED POSTS
Sasha Nader
Ulman House Ribbon Cutting Four years ago we shared an audacious vision of building a place where young adults could feel at ease and be free from the burden of hotel costs during cancer treatment. We launched our first