June 1st is National Cancer Survivor Day! And while we celebrate our survivors everyday at here UCF, today we take a moment to recognize the amazing people who have battled cancer, beaten it, and now give their time and energy to help others impacted. One such person is Erika Oertle, a thyroid cancer survivor, who has just left today for the 4k for Cancer's cross country, 70 day bike ride. Before Erika left for her trip from Baltimore to San Diego, we were able to set up a short interview and ask some questions about her cancer journey and her bike journey to come.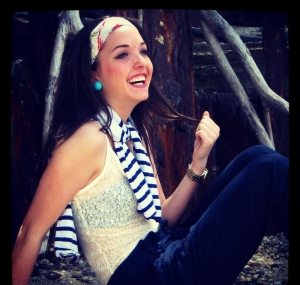 What type of cancer were you diagnosed with, and when did you receive your diagnosis?
I received my diagnosis in late August 2010 as I entered my senior year of high school.  The type of cancer I had was thyroid cancer.  Because it was caught very early, I am fortunate enough not to have taken the radioactive iodine that most thyroid patients have to.
What events lead up to your diagnosis, or, how did you discover what you were suffering from was cancer?
The only symptom I had was a large mass on my neck.  I thank my mother for noticing it and being very proactive and getting me to the right doctors so quickly.
Obviously, cancer puts your whole life on hold. Do you remember a specific moment when you were hit by this realization?
Yes, indeed it does. I remember vividly the day I came home from soccer practice and my parents were in the kitchen.  They asked me to sit down and they explained to me that the mass on my neck was that of thyroid cancer.  I was very very confused and nervous & upset. However, after speaking to my sister who lives in Baltimore and is in the medical field as well as many of my friends, I began to get a grasp on what exactly happened and that "if we had to choose a cancer- thyroid is the one to choose as the survival rate is 98%. With many friends and family calling and telling me this information, it seemed to have calmed me down a bit. But just knowing cancer had struck was devastating in itself.
How long were you in treatment? What helped keep your spirits up and gave you support during this period?
My treatment consisted of weekly visits to the doctor to monitor my blood/thyroid levels. Then it moved to monthly. Now it's every six months. I will continue to monitor my thyroid levels for the rest of my life. Looking back, I can honestly say the best thing that kept my spirits up were the positive people in my life and hearing all of the uplifting stories from doctors/nurses and family members. The take away from this horrible diagnosis is that "EVERYTHING HAPPENS FOR A REASON". We are given so many chances in life and this proved to me that my life wasn't over here, I would overcome this and live on to share my story with others. Inspiring them to stay healthy, active, and aware that cancer can truly change a person's life for the worst or even for the best, like it did to my own.
You're about to embark on a journey across America! Is there anything you're a little nervous about? What are you looking forward to most on your trip?
Haha, well there is a lot I'm definitely nervous about. First of them being just not knowing what to expect. On a bike for 70 days, riding 4,000 miles with 30 people who I'm not that familiar with, it will definitely not be easy. Also, I really like to eat so I hope there is no shortage of food or water. There are not many people that can say that they have rode 4,000 miles across the country in 70 days in the name of cancer. Another thing is being away from family and friends for such a long period of time. I was able to manage it and couldn't wait to get away when I went off to college; however, this is a little bit different. This summer is definitely going to be an eye opening, remarkable, and unforgettable life experience and I cannot wait to embark upon with 30 other determined, young, and driven individuals.
As a survivor, what are your thoughts about biking across the country while rallying support for young adults currently in treatment? Would an event like this bolster your spirits while you were in treatment? 
Well, as a survivor and a first timer, I'm honored to be chosen for this ride. Riding as a survivor is going to be a thrilling experience and I take so much pride in spreading awareness for this horrible disease. Cancer has not only affected my own life, but as well as many of my close family members and friends. If I was a cancer patient knowing that one of my friends was doing this, I would be so proud that there are individuals out there willing to fight and spread awareness for people like me who are battling the worst.
On National Survivors Day we celebrate individuals like yourself and their triumphs over cancer. Is there anything you'd like to say to UCF's community of survivors who are supporting you and your cause this summer? 
I would just like to take this opportunity to thank everyone in the cancer community, especially the 4K team and the Ulman Cancer Fund for giving me this opportunity to be a rider for this upcoming 2014 trip. I would also like to share a bit of wisdom with those suffering from cancer, overcoming their battle with cancer, or just anyone willing to be inspired. Yes cancer stinks and its never fun knowing that you have it, but we only live once and as a survivor, I want everyone to know that your family, friends, and the people you surround yourselves with are the best remedy. Cancer does not always kill, it is the negative attitude that you have when you are battling cancer. When going through my treatment, it was the positive words from my mother and the smiles from my dad and sister that helped me push through the worst. Always remember to keep your head up, smile, and know that every little thing is going to be alright. If it means biking 4,000 miles across America this summer, I will do everything and anything to put a smile on a child's face who is battling cancer, because cancer has taught me that this is the only life we are given so we might as well live it to the fullest.
Follow Erika's and the dozens of other 4K riders as they travel across America this summer at 4k for Cancer. And reach out to each and every cancer survivor you know today and let them know that their family, friends and community will never let them fight alone. Cancer Changes Lives…So Do We!