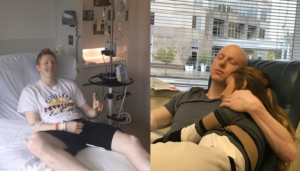 By: Matt Ode

Stage 3 Testicular Cancer Survivor: Using my story of adversity to help you overcome life's most difficult challenges and discover your purpose in life. 
March 17 – August 6, 2016:
This journey all started on Saint Patrick's Day 2016. I was out with my friends to celebrate, when I ran into the most beautiful girl – her name was Lauren. As we talked over drinks, it was apparent that we had a strong connection. The weeks went by, and we began dating.
Suddenly, I began to notice minor back pain. Being a personal trainer, I thought it was just from my intense workouts, so I shrugged it off. The pain persisted and standing became difficult. The summer was coming to a close when I experienced my second symptom — vomiting blood.
August 12 – August 13, 2016: 
I had been puking blood for days. I could barely stand, and I felt as if I had the worst flu of my life. Stubborn as I am, I thought it would pass in a day or two and just rested at home, but little did I know I was actually in a fight for my life. 
A few days later, I went to the hospital. The doctor sat down, grabbed my hand, looked at me calmly and said, "Matt we found an 11-centimeter tumor in your small intestine. We believe it is cancerous. We need to get you to the Cleveland Clinic." 
Immediately I was glancing over at my teary-eyed parents, assuring them that everything was going to be okay. I was too in shock to worry about the next steps. As soon as Lauren walked into the room, we locked eyes, and even with no words spoken, I knew at that time she was going to be my rock.

August 14 – November 21, 2016: 
I was diagnosed with Stage 3C Testicular cancer. My treatment would start with five rounds of chemotherapy to shrink the tumor before removing it with surgery.
Each round became more difficult, not only physically, as one would imagine, but also mentally.
At the end of a long road, I finally reached my last day of chemo! It was one of the most gratifying days of my life. After my final treatment, I rang the signature bell and received a certificate.

November 22, 2016 – January 5, 2017: 
After treatment I took a month off to recover and relax. My friends threw me a surprise party for my 25th birthday, and I went to Florida for vacation. 
To top it all off, my father organized for all of my closest friends and family to participate in the annual Cleveland Turkey Trot. Everyone wore "Mustaches 4 Matt" t-shirts and sported their real or painted on mustaches for the race. In the sea of runners, you could spot 400 individuals sporting our shirts. 
When the time came to discuss the post-chemo CAT scan, my oncologist told us, "We have good and bad news: Good news – the tumor has shrunk from 11 to 3 centimeters! Bad news – the tumor is wrapped around your inferior vena cava." I would need major surgery.
The next week I met one of my lead surgeons. He explained it would be an intricate surgery, and that I should expect about a week of recovery in the hospital with many months of rehab to follow. As the surgery approached on January 6, I was extremely nervous yet excited to complete what I thought would be the final chapter of this battle.

January 6 – January 28, 2017: 
The day had finally come. After being prepared for surgery, I said my goodbyes to my family and Lauren. 
When I woke, I learned the 10-hour surgery had gone well but that the vena cava couldn't be salvaged. The following week was difficult. The nurses coached me to get on my feet despite the swelling. I was released from the hospital a week later. 
My stomach was stitched closed from hip to hip. Lauren and I joked about how we would tell people I survived a shark attack. Throughout chemo I had lost a significant amount of weight, but I was quickly gaining it back post-surgery from swelling alone. I was consistently draining fluid until, after a week, the draining stopped.
The next day, I woke up in excruciating pain. I went to the ER, and from there, everything escalated quickly.

January 28, 2017 – March 17, 2017: 
The fluid build up was causing my organs to shut down. I was rushed into emergency surgery, where they reopened my sutures draining over 7 liters of fluid out of my body. This did little to reverse the trauma my body had experienced, and I soon fell into a non-induced coma lasting two weeks. 
During this period of unconsciousness, I was hooked up to every monitor you could possibly imagine. Two additional surgeries were performed to drain more fluid. My parents and Lauren never left the hospital, and there was a revolving door of family, friends and pastors visiting. 
When I awoke in the ICU on February 5, I was unable to move. My body was depleted. It took too much energy to even talk. As the doctors checked in, they were delighted to see me awake but knew I wasn't out of the woods yet.
About a week after waking from the coma, I was making small strides. The nurse came in to change the catheter in my neck. It was a run-of-the-mill procedure, but as the nurse started to pull out the catheter, I noticed right away something was wrong. Before I could alert him, my heartbeat went out of rhythm. Eight minutes of CPR and multiple electric shocks later, I was back. I believe this was the closest I came to death, but God had much more in store for me in this lifetime.
My recovery was slow. It took me more than a week to learn how to sit up in bed. I then practiced going from sitting to standing in 10- to 15-second increments before I was strong enough to take my first steps!
A few weeks later, I finally graduated from the ICU to a step-down unit and added more steps to my walk each day. My progress was too good to be true. A few days later as the doctors were wheeling me into my final recovery stage, I glanced down to discover my spleen had broken through the stitches. I was rushed off into my fifth surgery.
I had to begin my recovery all over again. Slowly but surely I began practicing walking again. The dizziness and fatigue wore off, and my steps became gradually easier and longer.
I eventually worked my way to the rehabilitation floor. It took all the strength I could muster up to get out of that hospital. After two weeks of rehab, my PT and OT cleared me to leave, exactly one year from the day Lauren and I met. My doctor personally drove me home from the hospital. That evening, Lauren and I celebrated not only my homecoming but also our anniversary.

March 17, 2017 – Present Day (2019) 
At my lowest point in the hospital, I weighed 115 lbs. For a 5'10″ male who once lifted six days a week, I was unrecognizable. Nurses were in my home three days a week to care for my exposed wound, and a PT came over twice a week to keep my rehab moving forward. The first month home was just as draining as being in the hospital. I began feeling sorry for myself. In hindsight, I should have been appreciative I was even alive. 
As weeks went by, I took a step back and looked at how much I had overcome and realized I had a purpose to help others. Right then I stopped feeling sorry for myself and gradually started progressing in my workouts and incorporating nutrition back into my life. This helped me grow stronger and gain healthy weight back. 
Fast forward 2 years, I now weigh in at 195 lbs, work out every day and teach others the importance of physical and mental health. Had it not been for my parents, friends, and Lauren pushing me day in and day out, I would not have been able to reach these milestones.
Let my story serve as a testament to faith and perseverance. Never doubt yourself. You are meant for great things in this world and it is up to you whether you pursue them or not.
RELATED POSTS
Jen Anotelli
Never Doubt Yourself By: Matt Ode Stage 3 Testicular Cancer Survivor: Using my story of adversity to help you overcome life's most difficult challenges and discover your purpose in life.  March 17 – August 6, 2016: This journey all