North Knoxville: Church cares for cyclists on 70-day ride for fundraiser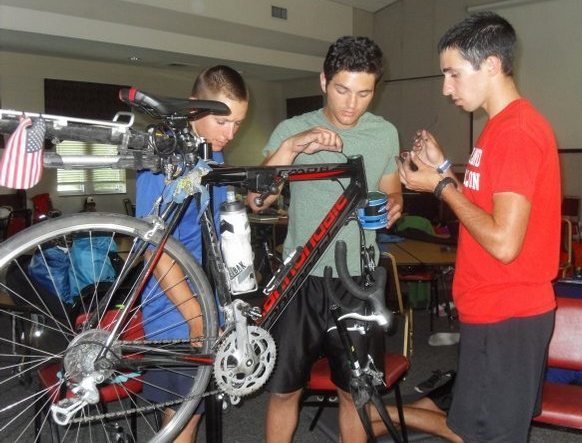 Michael JeanFavre of Litchfield, Ct., left, Nic Giraldo-Wingler of Robbinsville, N.J., and Kevin Levi-Goerlich of Columbia, Md., make repairs to a bicycle in the parish hall of St. James Episcopal Church.
Photo Credit: Knoxville News Sentinel
June 18, 2013: 
The
4K for Cancer
Team San Francisco made a two-day stop in Knoxville, Tennessee on their cross-country journey that began in Baltimore, MD on June 2, 2013.
The
St. James Episcopal Church
hosted the 4K cyclists for the second year in a row providing wonderful meals and a safe place for the team to stay.
Read more about their stay in Knoxville here: http://www.knoxnews.com/news/2013/jun/18/north-knoxville-church-cares-for-cyclists-on-70/
RELATED POSTS
Jen Anotelli
Ulman House: A Magnificent Lighthouse By Julia, Ulman House Resident The first time you hear those three spectacularly awful words, a thousand questions pop into your mind. The doctor says, "You have cancer," and suddenly the way forward