Spring 2021
Point to Point is a journey from Locust Point in Baltimore, MD to the Southernmost Point Key West, FL where participants will run or walk each day to raise awareness about young adult cancer and spread our mission.
Let us know if you're interested in running to Key West with us in 2021!
1.5 to 3 hours of running or walking? No problem. One long mileage day? Challenge accepted. All speeds welcome!
Support vehicles will carry luggage and bags.
$4,500 big ones (or 450,000 pennies). Fundraising tips and tricks, plus frequent check-in calls with our awesome staff, will help support your efforts.
Support drivers get the team from point A to point B with a whole lot of cheer (and snacks.) Bonus points if you can read a map.
$1500, a dollar for every mile from here to Key West. Plus fundraising tips, and frequent check-in calls with our awesome staff, will help to support your efforts.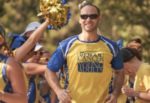 Our stories were shared, our bonds grew and in one brief week, I had a family that I never knew was out there.  The running was a way for us to deal with our own battles, be it cancer, family disconnect, or just mental exhaustion.   But we were all each other's strength.  I met real heroes on this trip, in my eyes at least.  I never knew such a level of love, positivity, and inspiration that could come from the P2P experience.