SHEAR THE BEER'D – One beer aficionado's way of giving back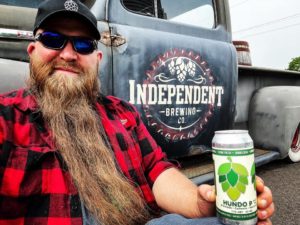 What's the value of a beard? 
Guys whose chins haven't felt a winter wind in decades would say it's priceless.
Partners who prefer a smoother snuggle would count it as a liability! 
Some would say it's impossible to put a dollar value on a facial frill, but Brandon Skillman's epic 2-foot long beard is proving to be worth at least $25,000. 
Brandon has been bristly since 2013, and the bulk of his recognizable waterfall of whiskers has been with him since 2016. He got the itch to shave more than a year ago, as his beard was getting in the way (literally!) of his beer-drinking hobby, and taking more effort to maintain than he wanted to keep putting in. Before he unearthed his razor, though, he contemplated how he could leverage giving a fond farewell to the facial hair he had become known for, while supporting a cause close to his heart.
Administrator of the 10,000 member-strong Facebook group "Maryland Beer Drinkers Club," Brandon is a craft beer aficionado and regular visitor to many of Maryland's 100+ breweries. He loves to sip a cold pilsner (Mobtown Brewing's Side Pour is a current favorite) while taking in the varied Maryland scenery local breweries offer – everything from a converted urban church at Ministry of Brewing in Baltimore, to an evergreen forest surrounding Gaithersburg's Elder Pine Brewing & Blending Co. Brandon loves to get to know the folks behind the foam too, and has developed great relationships with operators and crews of many local breweries.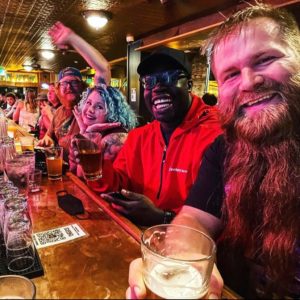 When he started reaching out to them with his idea to build a month-long brewery tour as a fundraiser for the Ulman Foundation, Brandon was taken aback by the positive reception. He had gained an appreciation for the services and community Ulman provides to adolescent and young adult cancer patients and survivors after supporting his dad, Robert, through cancer. Robert was in his 50s when cancer struck, and thankfully didn't face many of the challenges younger adults commonly do; he had great health insurance, an understanding and supportive employer, and lots of family locally to help him get to and from treatment. Even still, Brandon was deeply affected by the difficulty of navigating cancer with his dad, and having been, himself, uninsured in his early 20s, it helped him gain great empathy for young adults his age who face the disease without a strong community of support. As he sold brewers on the idea of raising funds together, Brandon learned that many in his beer community had been impacted by cancer as well, and were excited to join him in giving back. 
He also provided a unique incentive: the brewer who raised the most money would become the one to wield the scissors and, as Brandon named his campaign, "Shear the Beer'd."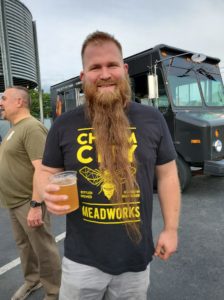 Shear the Beer'd is a month-long tour of 24 Maryland breweries with a competitive fundraising element; each brewhouse partners with Brandon to raise funds in whatever way matches their own style and abilities. Most pledged a percentage of sales or a dollar per beer sold, some created raffles for guests of their events to vie for, and others talked about Uman's mission and provided QR codes through which drinkers could donate. Whoever generates the most funding for Ulman's mission gets to set aside the frothy foam of their ale, foam up some shaving cream, and raze Brandon's beard.
Between the first event on May 27 to one of the last on June 23, Brandon's efforts have yielded more than $25,000, far exceeding his initial goal of $15,000. Bel Air's Independent Brewing Company is currently leading the charge having raised close to $7,000, but Idiom Brewing Co. of Frederick isn't ready to throw in the soggy bar towel just yet – they've raised nearly $4,000 and are still collecting donations.
Shear the Beer'd ties up this weekend; there are two remaining evening events anyone can attend. Brandon (or @the_bearded_beer_traveller as he's known on Instagram) will be at Monument City Brewing Co. in Highlandtown on June 25. He'll show up ready to be sheared on June 26 at Max's Taphouse in Fells Point. Donations can be made to any of the participating breweries' efforts at give.ulmanfoundation.org/shear-the-beerd/Donate.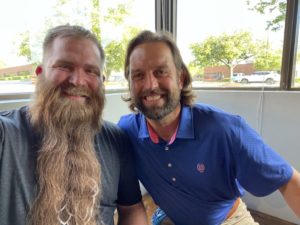 What will Brandon do with his time once the full value of his beard is realized? He's been too busy putting back pints to plan for much, but we guess you may spot him enjoying a cold one and rubbing his newly-smooth chin as he reflects on the incredible impact he's made. 
RELATED POSTS
Jen Anotelli
Ulman House: A Magnificent Lighthouse By Julia, Ulman House Resident The first time you hear those three spectacularly awful words, a thousand questions pop into your mind. The doctor says, "You have cancer," and suddenly the way forward