Spencer's Story
By Gerrie Wiersberg

Hello! I wanted to speak today to all the sons and daughters out there. Oh, is that you? Great! You are exactly who I need to reach today. Please do me a favor after you read this post. Call your parents, if that's possible. Ask them how it feels to have their hearts walking around outside of their bodies. They will know immediately what I'm talking about. And if you are a parent too, then so will you. 
I'd like to tell you about the two halves of my heart, our daughter Samantha and our son Spencer, and the story of our family. But really, this is Spencer's story, so please bear with me while I try to do him justice.  It's also about another family – our Ulman House family. Comprised of many different families but all united in one common goal – to fight cancer. Heartbreakingly, our sweet 23-year-old, police officer son, Officer Spencer Butler Wiersberg, lost his battle with Ewing's Sarcoma on January 12, 2020. Our lives will never be the same. To say we are devastated is the understatement of the century.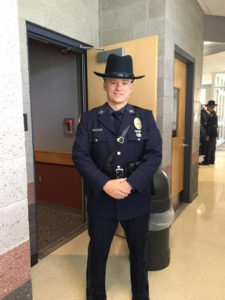 Which brings me back to my original request – if you are a parent, or if you are able to ask your own parents – you know exactly what it means to have your heart walking around outside of your body, on its own. And that is the entire purpose of this story. To share Spencer's fight with you, to show you just a bit of the heartache and sheer terror a parent feels when their young adult child is fighting for their lives. And to ask you most humbly, to please, for the Love of all things Holy, please continue to support the Ulman Foundation. For without it and our family there, this family – the Wiersbergs, Spencer's Wiersberg Warriors – would be more shattered than we already are. 
You see, as parents, we would do anything, give up anything, fight anything to keep our children safe and healthy and loved. And as parents, we try so desperately to do everything right. To make sure our kids do not want for anything. That they are well rounded, with extracurricular activities, yet still do well in school, so they can get into college/find a job/get married/have kids and start the cycle of life all over again. We keep them fed and warm and safe and away from drugs, alcohol, and bad influences. We read with them, and often pray over them, play with them, and laugh with them. And sometimes, our tempers are short or we're tired or we lose our patience. But somehow our children still love us. They grow into adulthood and we think, "Whew! We made it. It's all good now. We can relax. Our parenting job is pretty much over."
And then CANCER comes into your young adult child's life, quickly and unexpectedly, with a viciousness and terror that takes your breath away. And instead of relaxing, you are suddenly sprinting for your child's life, full speed ahead, no stopping or slowing down to even breathe, much less think. And when your son – your selfless, beautiful, loving, athletic, smart, kind, wonderful, precious son asks, "Why me, mom? What did I do to deserve this?" you bite back the tears and the temptation to curse both God and Satan alike, and you respond, "I don't know the why of it, sweetheart. I do know that YOU did nothing wrong. And when we get to heaven, God and I are going to have a Come-to-Jesus meeting about it. But in the meantime, my love, we fight. We fight and go forward and we never look back."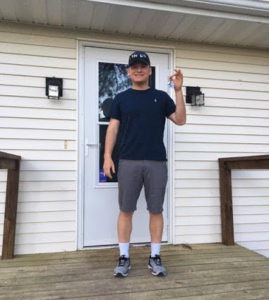 Because that's what we parents do when our child is ill. It doesn't matter how old your child is, or how old you are, we are always our parents' children. And our children are always ours. So, we fight with all of our being, we cry in the shower so that we can put on a brave face in front of them, we read and research, asking questions again and again until someone finally explains it to us in a way we can understand. We ban chemicals in our homes and body products, get rid of sugar and gluten and anything else that isn't healthy, we go for long walks and scream, cry, beg, and curse. We hold both our children tighter and tell them we love them constantly, even more than we ever did before. And we try to balance the needs of both, knowing full well that our other child, Sam, is not receiving nearly as much support and recognition as she should, but she is a strong, amazing young woman and never, ever complains. And we pray, frequently and diligently, every second of every day. There is nothing so humbling as kneeling beside your dying son's bedside, begging God to take you, right then, that moment, with no warning and no goodbye, if only he will return your precious child to full health.
The only saving grace on this entire journey through hell is that you find people who belong to this same, horrific club as you do. A club that no one ever wants to join but you thank your lucky stars when you find others like you. Quite frankly we thought we were alone, until a meeting with Spencer's social worker, Devon. In Feb. 2019, right after it opened, Devon told us about this wonderful new house for young adults. Because up until then, we thought we would go bankrupt. You see, there are NO OTHER resources for young adults. Everything is for little children. And while I am grateful there are resources out there for those under 18, no one thinks of young adults. We live on Maryland's Eastern Shore, 3 ½ hours (on a good day) away. We were already thinking that we would have to spend several thousand dollars a month to rent an apartment in Baltimore, money we don't have. Our youngest, Samantha, had just started her freshman year at Randolph-Macon College and we had taken on Spencer's student loans so that he could buy his little house. My husband is a police officer, like Spencer, and I am a teacher. Public servants don't make a great deal of money. But we were prepared to do whatever we had to, so that Spencer could get the treatment he needed and not have to worry about anything but fighting.
So, after our conversation with Devon, on a cold wintry March day, Sophia and Maeve walked through the cold to visit us in Spencer's room at Hopkins and took us back to the house to show us around. We were just in shock. Not only that someone had actually created a space specifically for young adults but that it had opened right when we needed it and was perfect beyond measure. And that's when our relationship with Ulman started. I cannot tell you the specific number of nights we stayed at Ulman House, only that it had to number close to 100, for we were there on and off, through most of 2019. That's also not counting the number of meals I didn't have to cook, or the cost of laundry and personal care products, parking, and so many other expenses that didn't arise because we were there. And that's just the financial benefit we received. 
You need to know about the intangible benefits too. If you are fortunate enough to have met the Ulman House staff, then I hope you know how wonderful these people are and why we call them our family. Devon and Sophia have been with us since Day 1. Devon, who made phone calls and arranged meetings for me and always took care of everything we needed at Hopkins. Sophia, who is like another daughter to me, since she is only a year older than Spencer. We couldn't be home for Spencer's birthday, so Brock took Spencer golfing, and Sophia organized a birthday party for Spencer, along with the Olivers, from the BoStrong Foundation. Sophia delivered an End-Of-Radiation poster to Spencer at the hospital. She organized an End-Of-Chemo party for Spencer and Maria, another Ulman House family member, who also had Ewing's. Not to mention Tiana, Nicole, Katie, Sara, and so many others who love us, and took care of us, cried and laughed with us, and just made us feel at home. In them, we found a new family, in a strange city, away from our real home, with others who were battling cancer, just as Spencer was. In the other families there, we forged friendships. They came from different backgrounds, with different needs, but we were all in the same club – parents helping their young adult children fight cancer.  I wish I could adequately explain how much these fellow families and the Ulman House staff mean to us. The shared dinners and activities, the small gifts and thoughtful gestures made life bearable and even happy at times, during the darkest days.
In addition to Spencer's 23
rd
Birthday, we spent several other holidays at Ulman. On the Fourth of July, volunteers provided a cookout, followed by the four of us watching fireworks from the rooftop. Of course, as police officers, Rich and Spencer were analyzing how the city's crowd control efforts were going, especially when the helicopter flew by with its spotlight on.
😊
The holidays are very important to Spencer, so he was extremely upset when we couldn't go home for Thanksgiving, due to his treatments. But in the days leading up to it, two of Spencer's best friends came to visit us in the hospital, while another visited on Thanksgiving morning. And our family back home facetimed us during their dinner together. Meanwhile, our Ulman Family was there with us, while Spencer & Will played video games and we all enjoyed a wonderful meal provided by kindhearted volunteers. And while little did we know it would be our last Thanksgiving physically together, we were able to laugh and enjoy time together as a family.
Most importantly, our Ulman House family braved bitter weather, on a heartbreaking January day, to pay their respects to our precious boy and be with us on the worst day of our lives.
So, as you come to the end of this letter, please know it isn't the end of the story. For, although Spencer's earthly journey has ended, we continue to honor his legacy and attempt to move forward while carrying him with us every step of the way. Wiersberg Warriors continues Spencer's mission of protecting and serving. A large part of that is figuring out how we can continue to support Ulman House and our family there, from afar – which is where you come in. I know that life, especially today, is uncertain. There seems to be so much anger, hatred, and hostility in the world. It has been my firsthand experience, that cancer, like love, knows no political party, race, sex, or any of the other myriad areas that society wants to divide us by. We are all humans and when you join this awful club, you understand that none of those things really matter. We are all parents, fighting for our children. If you have given to or fundraised for the Ulman Foundation in the past, God Bless You. You are part of the reason why my family is still standing. And if you are thinking about donating, volunteering, or fundraising, please do so. I understand that there are so many other causes in the world that you can choose from. Just know that when you choose Ulman, you choose people like Spencer. Young adults, just starting out in life, who don't have the resources that younger and older patients do. By supporting Ulman House, you aren't just giving them a place to stay. You are giving them a HOME, and a family, to support them through the darkest days of their lives. And you can't put a price tag on that. Thank you in advance for reading our precious boy's story. 
With love and friendship,
Gerrie, Rich, Spencer, and Sam Wiersberg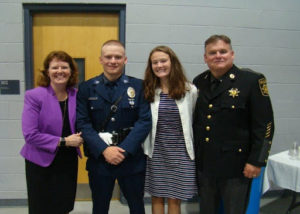 RELATED POSTS
Jen Anotelli
Ulman House: A Magnificent Lighthouse By Julia, Ulman House Resident The first time you hear those three spectacularly awful words, a thousand questions pop into your mind. The doctor says, "You have cancer," and suddenly the way forward