Statement from 4K for Cancer Family

STATEMENT FROM 4K FOR CANCER FAMILY
This morning, for the first time, 4K for Cancer riders continue our journey without our beloved teammate, Jamie Roberts.
We miss her and are still struggling to accept the tragedy that took her from us.
But we are determined to honor her and her family with every mile.
In life, Jamie was an incredible friend, a person who lifted up those around her, someone who unfailingly inspired others and made them feel capable of more than they imagined.
Today, we draw on that inspiration and friendship again as we embark on a journey of service, devoted to those with cancer.
We hold her memory and her family in our hearts today and in the days to come.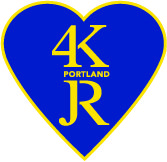 RELATED POSTS
Jen Anotelli
Ulman House: A Magnificent Lighthouse By Julia, Ulman House Resident The first time you hear those three spectacularly awful words, a thousand questions pop into your mind. The doctor says, "You have cancer," and suddenly the way forward