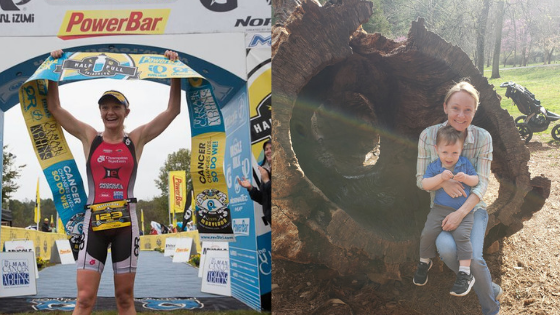 by Nicole Kelleher
I was introduced to the Ulman Cancer Fund for Young Adults in 2008, after my mom was diagnosed with breast cancer. My mom lived in Puerto Rico at the time and moved in with me in Charlottesville, Virginia, during my first year of medical school at the University of Virginia, to complete her chemotherapy and radiation treatments.  I was 26, and applied for an Ulman scholarship whose lives were being directly impacted by cancer. 
I was honored to receive the Satola Family Scholarship, which I put towards my medical school tuition and began my relationship with Ulman.  In 2010, I became a professional triathlete partnering with Ulman through Team Fight.  In 2012, I competed in Ulman's Half Full Triathlon and I was fortunate to take first place which was very meaningful to me.  I then returned to medical school and residency and now I am a physician at the University of Virginia treating cancer patients with musculoskeletal and neurologic impairments. 
On March 18, 2019 I was diagnosed with breast cancer and just recently underwent bilateral mastectomy at the age of 36.  My primary concern other than treatment has been my two young children ages 1 and 3.  Young adults with cancer face unique challenges.  In my case my unique challenge is nurturing my small children through this journey. I am grateful for Ulman and the great work they do to support younger people fighting cancer like me!
Below are excerpts from Nicole's blog, The Unspeakable Love, she is writing for her sons.
Aden and Connor, you are loves of my life. My mother told me this same thing days before she passed away from breast cancer. I was confused and a little saddened by this, I thought it might be some commentary on marriage, but today I realize precisely what she meant. I am obsessed with your father. I am convinced I won the relationship lottery.  He has proven to be the man better than any of my dreams or expectations.
However, my love for you both is a supernatural kind of love that cannot be named or described – an unspeakable love. I would rip the flesh from my body an inch at a time to be here for you. There is quite literally nothing in the world I would not do for you.
My love for you is like breathing oxygen or the unconscious familiarity of my own arm- I do not exist apart from it.  Facing a diagnosis of cancer at 36 is daunting because of my commitment to be your mom while you grow up. This is quite certainly the only thing that matters in my world right now, all other things are just noise.
This experience has illuminated the wisdom of The Giving Tree. I don't fear for my own mortality right now, I only fear that my absence will bring harm and hurt to you.  Facing one's mortality this way is perhaps something that mothers of young children experience more intensely, I don't know, but it is remarkable.
The following words are written to you with loving intention. Today you are three and one years old. Since my diagnosis on March 18, I have been possessed by a desire to share with you my dreams for your future and whatever wisdom I can impart to help you lead happy lives.
I pray that these notes might bring you solace, comfort, wisdom and hope when you need it.  I also want to document this tough journey that we are on as a family right now, and share any lessons that might help other people going through this. My prayer is that we look back on this time someday and see how good it made us.
Connor, below is a picture taken of us 10 days before my surgery sitting on an ancient tree on the walk up to Thomas Jefferson's home. I brought you here to play when a woman came over to us and asked if I had a camera so she could take a picture of us.
"Moms never get to be in the pictures," she said.
What an angel. I will never forget this random kind act. As with a lot of pictures in the weeks before my surgery, I look a little sad. I promise though, I am so happy and grateful to have this picture with you, sweet boy!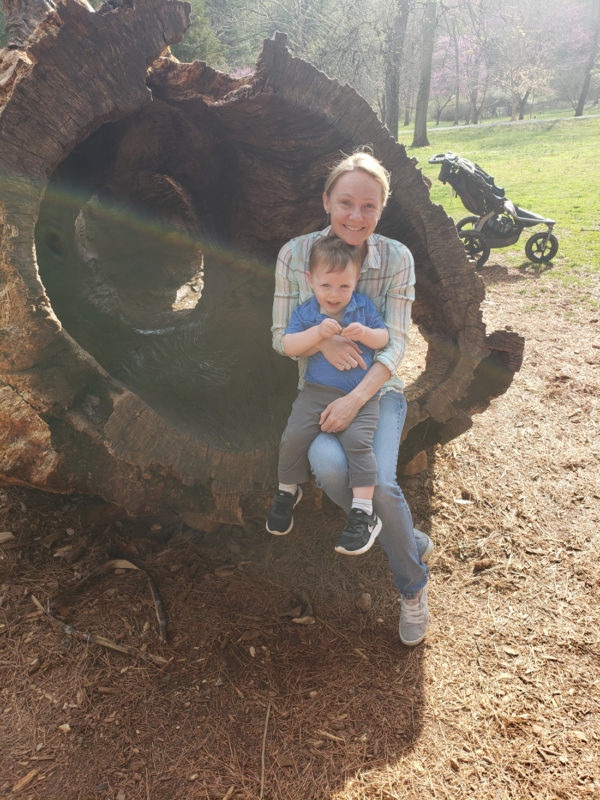 How to do breast cancer with a 1 and 3-year-old.
Figuring out how to minimize the impact of this diagnosis on my kids has been my second biggest concern behind treatment. The following information is only from my experience with this so far. Every family is different, but this might be helpful for anyone going through cancer or a serious illness with small children.
There is an angel who walks the earth in the form of a nurse at the UVA cancer center who gave me a lot of these ideas. Which is my first tip – ask good oncology nurses to give you advice on how to manage this with kids, they have seen your situation before.
Before my surgery, I talked to my 3 year old a lot about what was going to happen beforehand. He is a very anxious kid and needs to be in the know before the slightest of routine changes- so this one required a lot of prep work. The first thing I did was lay down some context that he could understand prior to talking to him.
We did a date, just he and I, to see the kids cartoon movie "Wonderpark." The mom in this movie gets sick and has to leave her child for a while. The whole movie is about processing the sadness of the child. This was really tough emotionally for me to watch with him at the time, but it really gave him a lot of context and words to talk to him about what was happening. I would also highly recommend the movie, "My neighbor Totoro" for this too.
After laying some context, I used the images and themes from the movie to talk to him at least daily for several weeks about the upcoming surgery, being away at the hospital, that I would have boo-boos and be sick for a while and grandpa coming to help.
By the time grandpa showed up 2 days before surgery, Aden was prepared and explaining to grandpa everything that was going to happen. He felt some control. The morning of surgery, my husband and I dropped Aden and Connor off at daycare.
Drop off when smoothly, Aden knew the plan and his anxiety was at a minimum – which was a gift to me.
Turns out that kids are scared and anxious for the same reasons we are. It is the fear of the unknown and lack of control that scares them.
It was the same lack of control and the unknown driving the waves of anxiety washing over my body in the weeks prior to surgery.
Preparing Aden with the context of a kids movie and then talking to him regularly about the future dampened the anxiety for both of us.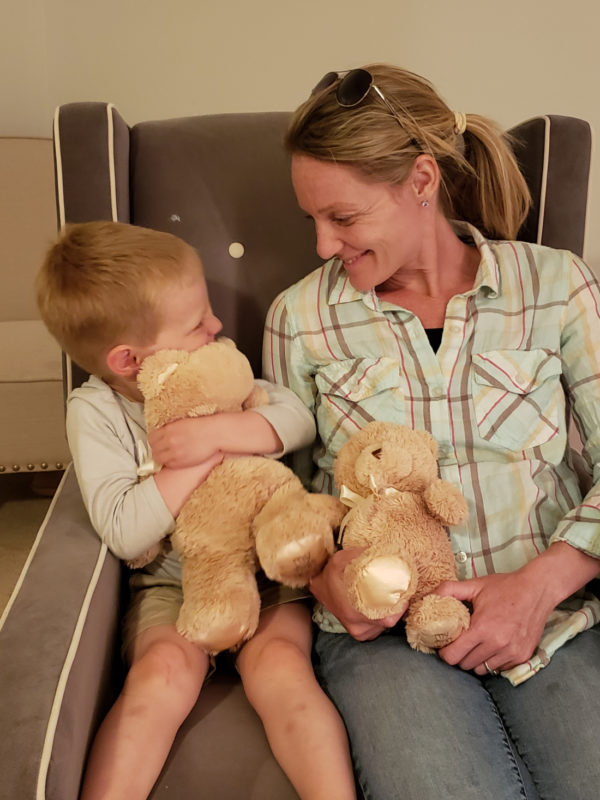 Sometimes the monster by your side is better than the ghost in the closet
The most counter-intuitive discovery we have made through this process with my older son, Aden, is that he wants to be involved in the things we want to shield him from the most. There is a ritual my husband and I do every morning and evening where he "strips" and empties my surgical drains.
Ill spare you the details but it is pretty gory, and never the type of thing one would think a 3-year-old should be involved in. After my dad left and it was just Nick and I, we had to pretty much lock Aden out of our room to get this done.
He is a very curious, wickedly smart and fairly anxious kid. He was not going to tolerate us doing something he knew was related to my surgery literally behind closed doors.
This approach was not working for us. We wrestled with what to do, and choose a path counter intuitive to us as parents who always want to shield our kids from harm. We decided to involve him in this gory ritual. This worked almost instantly, no more tantrums or anxiety fits before bedtime.
Now before bedtime every night, Aden holds the waste container while my husband strips the drain. Aden then passes the container to Nick. Nick dumps the drains and reseals them.
Then, and this is the most important part, Aden applies two band-aids, one to each of my hands.
Aden will tell you the band-aids are the most important part, and he is right. He beams with pride after applying his band-aids. Aden takes his job very seriously; he never forgets and reminds us what we need to do every night.
He feels that he is an important part of helping mom heal in an active way. He feels in control. He asks a lot of questions, including whether I am going to drink the drain fluid (we had a good laugh over this one), and we try to answer them honestly in his language.
Each family and child are different, this is certainly not the way for every kid. But this counter intuitive approach worked for us. Once we opened the closed door on the gory process he feared, he adopted a sense of control, pride and even peace.
For Aden, living with the monster by his side is better than the ghost in the closet.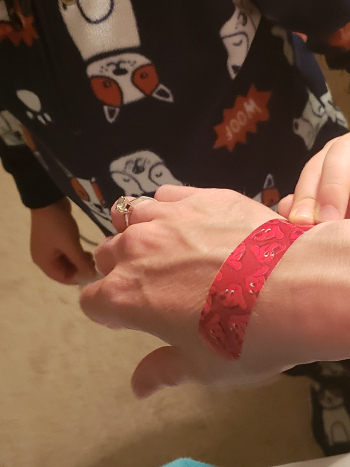 RELATED POSTS
Jen Anotelli
Ulman House: A Magnificent Lighthouse By Julia, Ulman House Resident The first time you hear those three spectacularly awful words, a thousand questions pop into your mind. The doctor says, "You have cancer," and suddenly the way forward