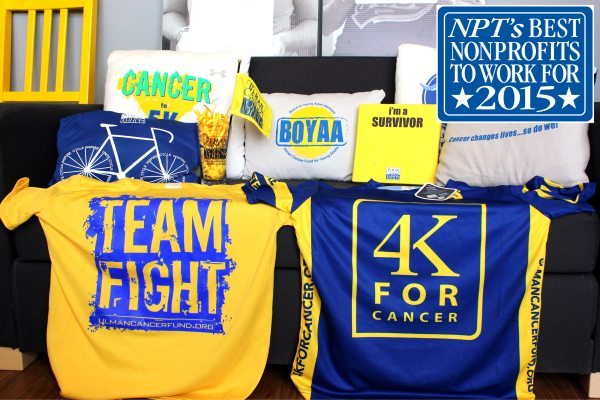 We are proud to announce that The Ulman Cancer Fund for Young Adults has been honored as a "Best Non-Profit to Work For" by The Non-Profit Times! Released on Wednesday, April 1st, 2015, UCF was placed fifth among all participating, non-profits and fourth among the small non-profits. This marks the second year that we have received this honor!
The Best Nonprofits program is one that is open to all nonprofits with 501(c)(3) status that have a facility with a minimum of 15 employees, in the United States. The assessment process was managed for The NonProfits Times by Best Companies Group (BCG) in Harrisburg, PA, an independent workplace research firm specializing in identifying and recognizing great places to work throughout the United States, Canada and the United Kingdom. The driving questions that determine the overall rankings came down to, "Do you have confidence in the leadership of your organization?", "On most days, do you feel like you have made progress at work?", and "Do you feel part of a team working toward a shared goal?"
Of the small organizations (with 15-49 employees), one of the biggest factors between those that made the cut, and those that didn't, were on issues of flexible office hours and telecommuting. The second biggest factor that separated the winning small non-profits from the rest were those organizations that promoted exercise and provided wellness programs in the workplace.
"We are honored and proud to be recognized by The NonProfit Times as a Best Nonprofit to Work for 2015," said Brock Yetso, UCF President & CEO. "Our team works hard each day to provide a community of support for young adults and their loved ones affected by cancer. It's rewarding to know that the organization is also providing a great work environment for our passionate and dedicated staff."
Read more about the results of The NonProfitTimes Best Nonprofits to Work 2015 here.