$60,000 in Scholarships Help Make Education Dreams Come True For Deserving Students Affected By Cancer
Baltimore, Maryland – September 6, 2013 – The Ulman Cancer Fund for Young Adults (UCF) today announced the recipients of their 2013-2014 College Scholarships.
UCF awards scholarships for higher education specifically for students affected by cancer through their own diagnosis or through the diagnosis of a parent or sibling. Scholarships are awarded on the basis of financial need, medical hardship, dedication to community service, commitment to educational and professional goals, and a demonstration of how the applicant has used their cancer experience to impact the lives of other young adults affected by cancer.
With scholarships presented both regionally and nationally, UCF's College Scholarship Program was founded in 1999 through an initial scholarship awarded in memory of Matt Stauffer. Since it's inception, the UCF scholarship program has awarded over $500,000 through 350 scholarships in all 50 states. This school year, UCF is proud to award 24 scholarships in the amount of $2,500 per recipient totaling $60,000. Seven of the 24 recipients are attending schools in our local Baltimore/Washington Metro area with recipients from 14 different states.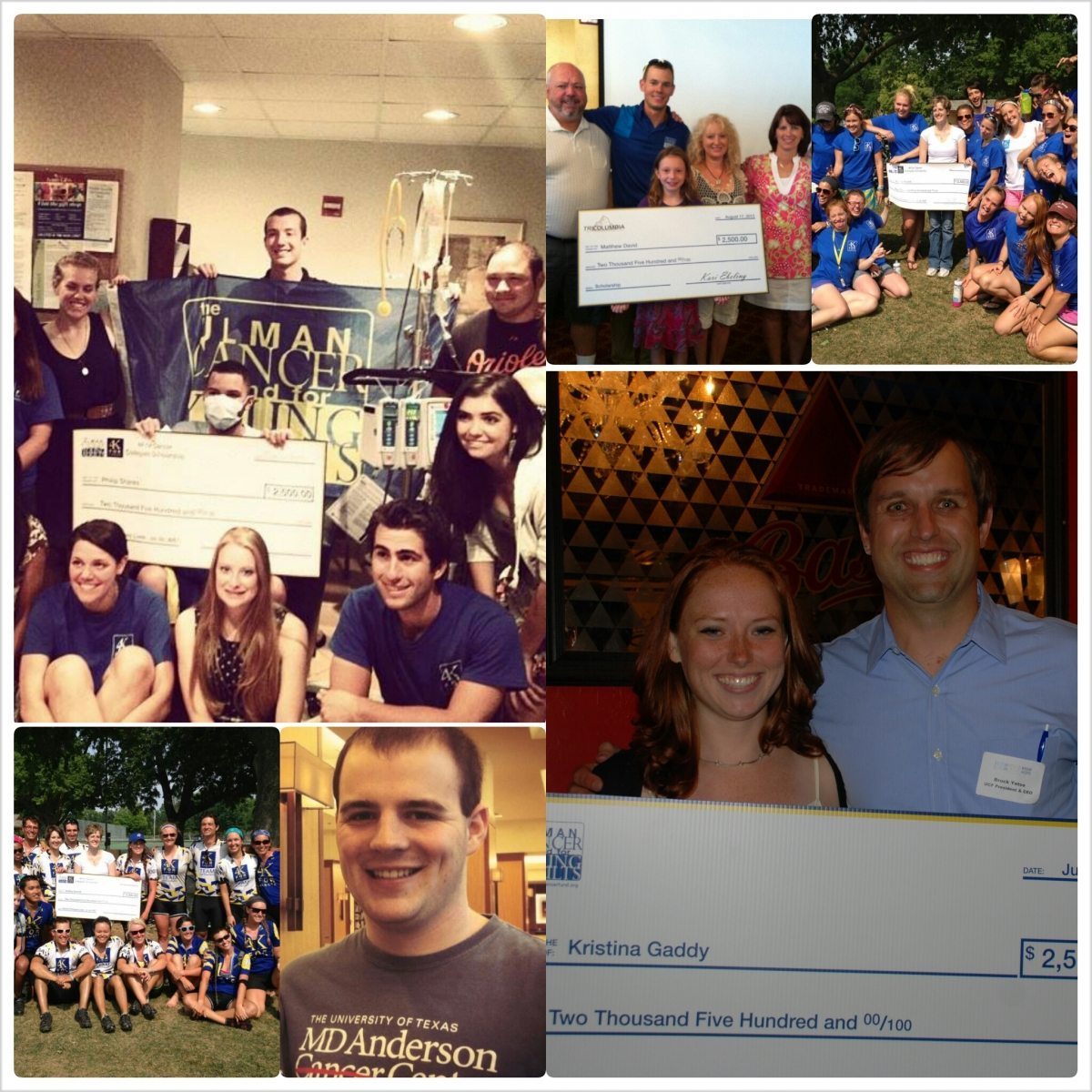 Brock Yetso, President & CEO of UCF stated, "The opportunity to pursue higher education is one of the greatest gifts we can give to young people. We've been able to give this gift to over 350 young adults affected by cancer over the past 14 years. We're excited to continue this commitment to serving the unique practical and financial needs of this population."
A number of the scholarships have been set-up by families in memory of a loved one, such as the Sean Silver Memorial Scholarship created in memory of Sean Silver.  The scholarship fund supports a young adult each year that is currently undergoing active treatment for cancer while obtaining a degree in higher education.
Sean Silver was a graduate of Columbia College in Chicago, managing to obtain his degree while in extensive treatment for a rare from of Sarcoma named Chordoma.  Sean studies focused on music journalism, combining his passions of music and writing into what he hoped would be a fruitful career as a rock journalist. While undergoing multiple surgeries, radiation and chemotherapy courses, he persevered to obtain his degree from Columbia at the age of 31. Less than a year after graduating from Columbia, Sean lost his battle on May 13, 2007.
This year the Sean Silver Memorial Scholarship was awarded to Andrew Etheridge from Atlanta, Georgia. From Andrew's essay, "There is more to life than my needs.  Cancer has taught me the need for community, for partnership, for cooperation, and with the years of life I have ahead, I will use my cancer and my education to reach my full potential, not just for personal gain but also for the benefit of others who have given much to me."
Over 400 applications were received for the 2013-2014 UCF College Scholarships.  Next year's application will be available online in Fall 2013 on UCF's website, https://ulmanfoundation.org/scholarship.
If your family, company or organization is interested in supporting or starting a UCF scholarship, please contact Julie Lanahan at julie@ulmanfoundation.org.
The winners of the 2013-2014 Ulman Cancer Fund Scholarships are:
Marilyn Yetso Memorial Scholarship

Kristina Gaddy (25); Kensington, MD 

Satola Family Scholarship

Keaton Rosborough (18); Columbia, MD 

Evan Nicholson Memorial Scholarship

Derek Cope (22); Jessup, MD 

Columbia Triathlon Association Scholarship

Matthew David (19); Columbia, MD

Perlita Liwanag Memorial Scholarship

Ashton Ebert (18); Arnold, MD 

Sean Silver Memorial Scholarship

Andrew Etheridge (20); Atlanta, GA

Jeremy Schmidt (18); Portland, OR

Paul Lemle (Key to Keys) Scholarship

Jessica Winkler (28);Barnsley Cresent Boulevard, NY 

Bernice McNamara Memorial Scholarship

Kayla McGrath (18); Belchertown, MA 

Vera Yipp Memorial Scholarship

Kaycee Davis (18); Campbellsburg, KY 

Lisa Higgins-Hussman Memorial Scholarship

Olivia Pettingill (17); Westminster, MD 

BOYAA Scholarship

David Lopez (22); Beaverton, OR 

GBMC Scholarship

Cole Phillips (17); Elkridge, MD 

Doug Parker Memorial Scholarship

Kaitlin Bramhall (19); Clarkesville, MD 

 
4K for Cancer Scholarships
Ashley Averett (25); Sakina, KS
Sheralyn Beck (21); Benton, AR
Helen Carefoot (18); Palo Alto, CA 
Tiffany Hester (19); West Jordan, UT 
Lydia Ness (23); Chicago, IL 
Gregory Reeves (18); Pleasant Hill, MO 
Kimberly Schmidt (20); Folsom, CA 
Philip Shanks (19); Dayton, OH 
Morgan Webster (19); Kingston, GA 
Takashi Yanagi (19); Urbandale, IA 
About Ulman Cancer Fund for Young Adults:
The Ulman Cancer Fund for Young Adults (UCF), founded in 1997, is the national leader in providing specialized support for young adults affected by cancer. With nearly 70,000 young adults diagnosed every year, our organization helps young people fight the disease and navigate treatment by providing access to information, support groups, and other specialized programs. UCF Patient Navigation Programs have set a national standard and can be accessed remotely or through onsite Patient Navigators at a growing number of hospitals in the Mid-Atlantic region. UCF is a founding member of the LIVESTRONGTM Young Adult Alliance and a national pioneer in developing innovative approaches in cancer support. UCF enhances lives by supporting, educating and connecting young adults, and their loved ones, affected by cancer.  For more information, please visit, www.ulmancancerfund.org.
Media Contact:
Rachel Wiederhold
Rachel@ulmanfoundation.org
410.964.0202 (ext. 107)