ULMAN HOUSE OFFICIALLY OPENS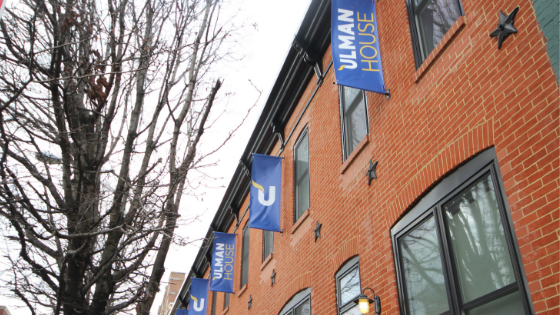 January 18, 2019, Baltimore, MD  The Ulman Foundation officially opened the doors of Ulman House in East Baltimore last week. Ulman House is a hospitality home built specifically for adolescent and young adult cancer patients and their caregivers seeking treatment in Baltimore and is the first of its kind in the State of Maryland.
Ulman House at 2118 E Madison Street in the Eager Park community of East Baltimore is a 12,000 square foot facility that has 8 family suites and is estimated to serve 200 patients each year. The home also features many communal spaces for the residents including a large kitchen, living room, fitness center, music room, and rooftop deck to allow natural connections between residents. The home is a unique renovation project consolidating and redeveloping six historic row homes into a state-of-the-art facility that has submitted for Gold LEED certification.
Maeve Koch, Ulman House Manager, noted, "Social isolation is one of the most common challenges our patients experience, we're excited for Ulman House to be a shared space for young adults to meet each other. Not to mention the home will allow patients quick access to their care teams at local hospitals and ease the burden of traveling to appointments."
Approximately 72,000 young adults are diagnosed with cancer each year, with about 3,000 cases in the state of Maryland. Many hospitals in Baltimore see patients traveling from neighboring states to seek treatment and their options for housing are limited because of the age group (15-39). Ulman House with serve patients between the ages of 15 and 39, who are actively in treatment with multiple appointments a week, and live 35 miles or more away from their treatment location.
Brock Yetso, President & CEO of Ulman Foundation said, "The idea for Ulman House was born five years ago when the demand for transportation and housing during treatment from our patients and families was on the rise. Despite many great organizations already providing housing, most of them had age limits that prohibited young adults or had waiting lists because of the growing need. With the generous support over over 500 individuals, foundations and corporations, we're incredibly grateful to our community for supporting this project from start to finish and excited for this new chapter for our organization."
Ulman House is currently accepting referrals for patients and seeking volunteers to assist in meal preparation and activity hour. For more information please visit www.ulmanfoundation.org/ulman-house/.
###